By Stuart Baker, General Manager (Europe) at Comestri
Green Friday is growing each and every year, as more retailers put profits aside and stand in solidarity for considered and mindful shopping. It's a push against the mass waste of impulse purchasing during the Black Friday and Cyber Monday scramble, and it looks like consumers are onboard. 
Where It All Began 
Black Friday originated in the US, and, if you believe the spin, was named after the post-Thanksgiving spending spree that would put retailers "in the black" for the year. But it was actually coined by the Philadelphia Police Department around the 1950's, who used the term to describe the traffic jams and intense crowding of the downtown retail stores.
"Black Friday" is the name which the Philadelphia Police Department has given to the Friday following Thanksgiving Day. It is not a term of endearment to them. "Black Friday" officially opens the Christmas shopping season in center city, and it usually brings massive traffic jams and over-crowded sidewalks as the downtown stores are mobbed from opening to closing. [HUFFPOST]
Today, the global shopping phenomenon has grown to encompass every continent on the planet. Amazon brought the shopping event to the UK in 2010, promoting a selection of discounts for the day. Today, the event has grown to include not only Cyber Monday, but 'Cyber Weekend', with deals starting earlier every year. 
The 'Dark' Side
Online shopping on Black Friday in 2021 was

expected to produce

over 386,243 tonnes of carbon emissions into the atmosphere. 

Up to

80% of items

(and any plastic packaging)  will end up either in landfill, incineration or – at best – low quality recycling, often after a very short life.

Smaller retailers simply cannot compete and remain profitable, especially after such a rough 24 months. 

After yet another year dominated by lockdowns, supply chain issues and stock shortages, retailers have felt the pinch. Heavily discounting the limited stock retailers have managed to secure makes no sense.
The frenzied sales event is having a devastating impact on our environment, and consumers are starting to demand change. They're shopping smarter, with almost a quarter (22%) of British consumers actively considering how carbon friendly the delivery of a product will be before making an online purchase, up 88.1% YoY. Offsetting their carbon is equally important as free delivery, according to 34% of UK shoppers.
There's a wave of consumer activism sweeping the globe and brands need to pay attention. The millennial generation is the greatest driving the change; they're holding brands to account for their positions on political and social issues and using their wallets to force change.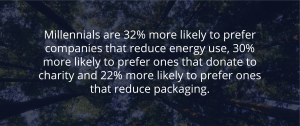 Boycotting Black Friday
Around 85% of independent retailers planned to boycott Black Friday in 2021, a trend that's gaining traction every year. These retailers are living their brand values and standing up against  consumerism, waste and impulse buying. Instead, websites were shut down, profits donated to charity and trees planted.
But it's not just the smaller guys – retailers such as Next, M&S, B&M, Home Bargains, Primark, Poundland and TK Maxx were also planning on shunning the sales. Most have planned on focusing on 'great value all year round instead.'
"As we're waking up to the far-reaching impacts that 21st century consumption habits have on people and the planet, it seems hard to justify the very existence of Black Friday.
So, as an antidote to a day that celebrates mindless consumption, we'll take a different approach. This year, as with every year, we'll shut down our website as well as our store in Stockholm.
In a time where constant replacement remains the norm, sometimes the best thing to do, is in fact, to do nothing at all.
Join us in the pursuit of less."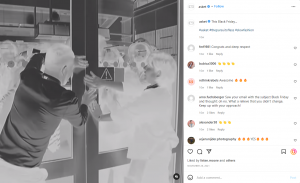 [Asket]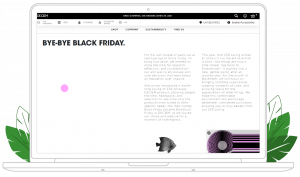 "Slowvember Industry disruptor DECIEM is paving the way for a more sustainable Black Friday with the launch of its Anti Black Friday Campaign. DECIEM will be offering its month-long 23% discount to encourage conscious consumption and considered purchases over a period that traditionally celebrates impulse purchasing. 
DECIEM's month-long discount offers a human approach to discounting. Consumers will be encouraged to partake in a month of soothing and relaxing experiences across all channels, via calm activations in-store, and across DECIEM's online presence. Slowvember welcomes back DECIEM's month-long discount period, allowing its audience to slow down and take the time to make educated purchasing decisions."
"This Black Friday Weekend we are honouring our commitment to give back for the second year running by donating 100% of our net proceeds to charity from 26th-29th November. We will be swapping deals for donations again this year by supporting two charities that echo our brand ethos of protecting people and planet. We have chosen to split the profits equally between environmental charity, @worldlandtrust, and Women's Safety Charity, @strutsafe. If you are planning to treat yourself or a loved one this weekend, then we hope you can join us and #ShopToSupport."
It's been a rough couple of years for retailers, but consumers are starting to wise-up to the impact their shopping habits are having on the environment. Yes, retailers need to move stock and make a profit, but is this really the best option for retailers, consumers and the planet? 
Consumers Driving Change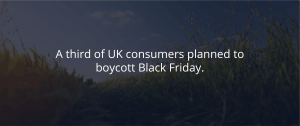 Consumers are shifting towards a more sustainable lifestyle. They're ditching single-use plastics, recycling more, reducing consumption of meat products and buying more seasonal produce. And they're demanding action from retailers as well. 34% of consumers in the UK have chosen brands that have environmentally sustainable practices / values – values that align with their own.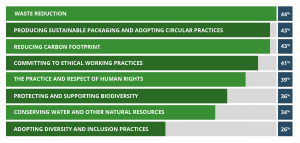 % of all UK consumers who have chosen brands that have environmentally sustainable or ethical practises/ values in last 12 months [DELOITTE]
Buy well, buy once: 39% of Brits have also reduced the amount of new products and goods purchased in the last 12 months, consumers globally shocked at the fall out from fast fashion, cheap electronics and single use items. Quality over quantity is having its day. Consumers are making more informed purchase decisions; they're researching more, jumping from channel to channel, and navigating their way through a longer shopper journey.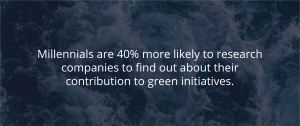 Top Tips For Retailers: Making Sustainability a Key Business Priority
Consumers demand authenticity; green-washing simply will not do. Like consumers, retailers need to make a shift to more sustainable and more environmentally friendly practises for everyone's sake. Here are our top tips to help retailers on their journey:
Instead of mass discounting out-of -season stock or sending it to landfill, consider what other markets it would be suited to; it's always the opposite season on the other side of the world! Connect your ecommerce ecosystem to a marketplace or sales channel in a different market and publish your products to a brand new audience. A local 3PL can also help with reducing the environmental impact of shipping to the other side of the world.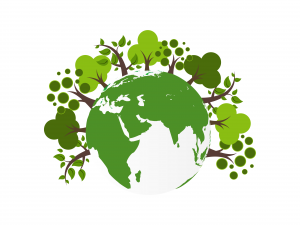 2. Alternatively, donate surplus inventory. Organisations such as In Kind Direct (UK) partner with retailers and match surplus inventory with people in need, helping to transform the lives of people affected by homelessness, youth at risk, women and children escaping domestic violence, the elderly, refugees and many others.
3. Help consumers make better buying decisions and reduce returns by investing in product content. Enrich your product data with compelling and robust product descriptions, high quality imagery and videos, customer reviews and content, content, content. A PIM System can help make the process easy.
4. Bring your brand values to life by giving customers the ability to offset the carbon of their delivery at checkout, or do it for them! Engage organisations such as Carbon Checkout, Cloverly or Future Neutral to give customers the option. 
5. Offer choice at the checkout with delivery options. Offer Click & Collect, curbside pickup and delivery at various speeds; 30% of consumers still expect delivery within 24 hours! Connect your inventory with store locations and ship from the closest location to the customer for a more environmentally friendly delivery.
6. Rethink your inventory management practises and ensure every piece of inventory is available to be sold, no matter where it's located. Unify your inventory to give it the best chance to move!
7. Offer return options that are convenient to your customer. 84% of shoppers want to be able to choose whether to return items in store or online. An instore return is definitely the most environmentally efficient option, and will also give your customer the opportunity to exchange the item. Alternatively, consider if the return is worth it – can the customer gift it or recycle it themselves, rather than shipping it back? 
Published 07/02/22