Recently, there's been a significant shift to Direct to Consumer (DTC or D2C) in retail. No longer must businesses rely on a middleman such as a department store, supermarket, or wholesaler. Instead, they can sell their products directly to customers via their own websites or physical shops.
This approach has been around since the late 2000s, when brands such as Bonobos and Glossier catered largely to Millennials who were keen to shop online. However the pandemic has accelerated the uptake of DTC retail as people of all ages are spending more time making purchases on the web – and are increasingly savvy when it comes to finding the best quality and prices. Now both well-established and new brands are making the switch.
But is DTC right for all businesses, and can we expect it to dominate retail in the future? First, let's look at the benefits of DTC.
DTC brands don't lose sales revenue
This is the most obvious benefit of DTC, but also one that brings further advantages. DTC brands tend to have good reputations when it comes to customer experience because they are able to devote more money to elements such as attractive, recyclable packaging and improved customer service.
They can offer more personalisation too. For example, Tails.com asks people to fill out a questionnaire based on their dog's dietary needs and then provides tailor-made food. Like many other DTC brands, they sell via Instagram – a sales channel that is proving popular, with more than 130 million users clicking on an Instagram Shopping post each month.
Selling via DTC gives you full control of the customer journey
How might a third-party display your products? Will they price them in the best way? Is their returns policy up to scratch? Sellers can bypass all of these concerns by retaining control of the entire customer journey.
The fashion industry was among the early adopters of DTC. The founders of Jimmy Choo saw that selling through third-parties meant they were restricted to old-fashioned approaches (i.e. subscribing to the idea of fixed seasons). In contrast, selling directly to customers gave them a greater ability to react to demand and offer popular products at any time. In other words, they could give people exactly what they wanted, when they wanted it.
Businesses selling larger goods can also benefit. Tesla Motors, for instance, have moved away from standard dealership models and the restrictions these entail. Their showrooms feature in shopping centres which bring a much larger – and more diverse – audience to their cars. The staff are all highly knowledgeable on the vehicles and have no conflicts of interest.
DTC can help build customer loyalty
In a physical shop, a customer chooses between a number of products. Say they select yours. Yes, you win the sale but you don't develop much of a relationship with the person. Alternatively, if the customer walks into your own shop you have ample opportunity to tell them more about your brand, understand their preferences and build a sense of trust.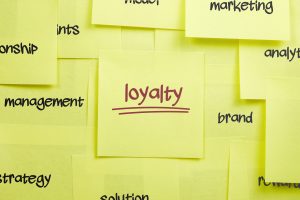 Glossier boasts a loyal fanbase. This NYC-based cosmetics company started as a blog in 2010 and, through forming relationships directly with their readers, was able to launch their brand which is now worth $1.8 billion. Rather than relying solely on adverts, they maintain trust through these interactions with their audience, treating these people as part of a community instead of mere customers.
Once a brand has a loyal following, they can potentially offer a subscription service. No longer just the domain of companies like Netflix, such services are becoming more popular as shoppers favour the personalisation and convenience they offer. According to Zuora, the subscription economy has grown by more than 435% over the last nine years.
DTC provides opportunities to collect first-party data
Customer email addresses. Locations. Shopping preferences… By selling directly, brands can acquire their own quality information rather than rely on third-parties. This information particularly helps when launching into international markets where there may be many unknowns. For example, Graze launched their UK range of healthy snacks into the US in 2013. Customer feedback allowed them to change 50% of their products within the first six months, meaning they were able to quickly respond to American tastes.
International brand Nike have profited from their own direct channels. Through providing the shopper with rewards and discounts, the Nike App allows the company to understand an individual's habits and behaviour so they can increase personalisation in the future. More than 100 million customers have signed up so far, and Nike intends to triple that number by 2023.
Some disadvantages of DTC
Operating this way is not without its challenges. Selling your products through large, established retailers means they automatically get a certain amount of "foot traffic" – whether in shops or online. With DTC there are no guarantees. While in the early days of online shopping, it was relatively easy to attract people through advertising on social media, costs have dramatically increased in this area.
Marketing spend is then a real consideration. It might be a case of simply running expensive advertising campaigns. What's likely, however, is that more involved tactics are called for – such as gaining social outreach and PR, plus maintaining ongoing interactions with your audience on social media.
DTC brands need greater capabilities all round, covering every aspect of the customer journey – from manufacturing, to presenting products, to talking to customers about their experiences. There's arguably nowhere to hide when mistakes are made and these can prove costly to a brand's reputation.
DTC can be one offering among others
It's worth remembering that DTC needn't be your only sales mode. Some brands start off selling directly to consumers before moving into more traditional retail spaces as well. Graze, for example, now sells their products in major supermarkets. The information gained from DTC can, in fact, help your third-party retailers by providing them with insights about how best to sell your products.
Alternatively, some brands may start off using third-party retailers, then gradually shift to DTC. Since 2011 Levi's have been growing their DTC business and aim to reach a proportion of 60% which will include opening more of their own physical shops.
Will DTC soon dominate retail?
Clearly this mode of selling is not right for every business. Lower cost items such as basic food products will likely remain the domain of supermarkets and other third-party shops. And not all brands have the capacity or funds to cover every aspect of the customer journey. What we might see is an ongoing shift between traditional and DTC retail, including a blend of the two, as shopping habits continue to evolve. It's highly worth considering DTC though. Businesses of all sizes stand to make large gains in both profits and long term agility.
---
Are you looking to improve your online sales? Advanced Commerce offers an innovative merchandising platform that gives you more control of your marketing strategies. Try it for free today: https://advancedcommerce.io
Published 24/02/22