By Will Gillingham
All it takes is a quick Google to understand the stigma associated with fast fashion: national papers, trade-specific publications, blog streams, and universities all collectively voicing their distaste for the ethically unconscious practice underpinning the clothing sector. And yet, for whatever reason (perhaps one as simple as 'the accepted way of things'), fast fashion has been allowed to continue relatively untempered.
However, the global mindset appears to be undergoing a sea change. The Blue Planet documentary series has highlighted the issue with plastic, which has changed people's lifestyles and put pressure on companies to reduce their plastic usage. Last year, Burberry faced a tremendous backlash when they burned unsold goods. Environmental protests and protestors have grown in frequency and popularity. It's not unreasonable to suggest that most everyone is becoming more environmentally aware, even if only a percentage of people are taking steps towards a lifestyle change.
But those people who are taking steps may soon be looking for the ethical retail choice. And not the new item which has been ethically produced, but rather the item which has the smallest footprint possible: the used item. Is buying second-hand the obvious next trend for retail? Are we likely to reach a situation where household name retailers champion their selection of used clothing? We approached a few experts for their insight. Here's what they had to say.
No to new
While people are becoming more environmentally aware, there is still a demand for cheap clothing. What this means is that, in an ethically conscious future, people may be more likely to lean towards used clothing rather than a dearer, brand-new alternative.
This is highlighted by Natalia Zakel of FACT-Finder, who pulls together a number of studies to demonstrate this divide.
Zakel: 'A consumer survey conducted this year asked 2,000 participants from the US and the UK about sustainability in fashion retail. The report revealed that 52% of consumers want the fashion industry to follow more sustainable practices and it's easy to understand why. In the last 15 years the industry has doubled production while the time clothing is worn before it is thrown away has fallen by around 40%. When it is thrown away, 73% will be burned or buried in a landfill. Around 12% gets collected for recycling but less than 1% of that will be used to make new clothing. The solution seems obvious: produce sustainable pieces, right? Not exactly.
'From the same consumers who said they expect the industry to be more eco-responsible, only 29% would be willing to pay more for sustainably-made versions of the same items. There appears to be a disconnect between the idea of sustainable fashion and where consumers actually spend their money. Should retailers rise to meet these consumer demands and risk the gamble of customers not buying into sustainable practices, or should they continue to conduct business as usual? Neither – it's time to rethink the approach of the clothes we wear and what happens to them after we're finished.'
This sentiment is echoed by Jelmer Reijerink, Product Specialist, Omnia Retail, who notes that Amsterdam has seen a rise in vintage clothes stores recently in response to the shopper palate.
Reijerink: 'Buying used clothes will be a major retail trend as people become more aware of the impact of the fashion industry on the environment. Over the past five years we've seen a rise of the number of vintage shops in Amsterdam, and it's become "cool" to buy something second-hand. 
'But vintage clothing is only part of the equation. In reality, this new "trend" is part of a larger movement to make the industry more sustainable, whether that's in recycled materials or ethical sourcing. This is obvious, as the number of "green" clothing companies has also been increasing steadily over the last few years.'
This last point is a pertinent one: a whole community of sustainable businesses is growing, thriving, and making partnerships with established retailers. With this activity already ongoing, a used-clothing trend is feasible.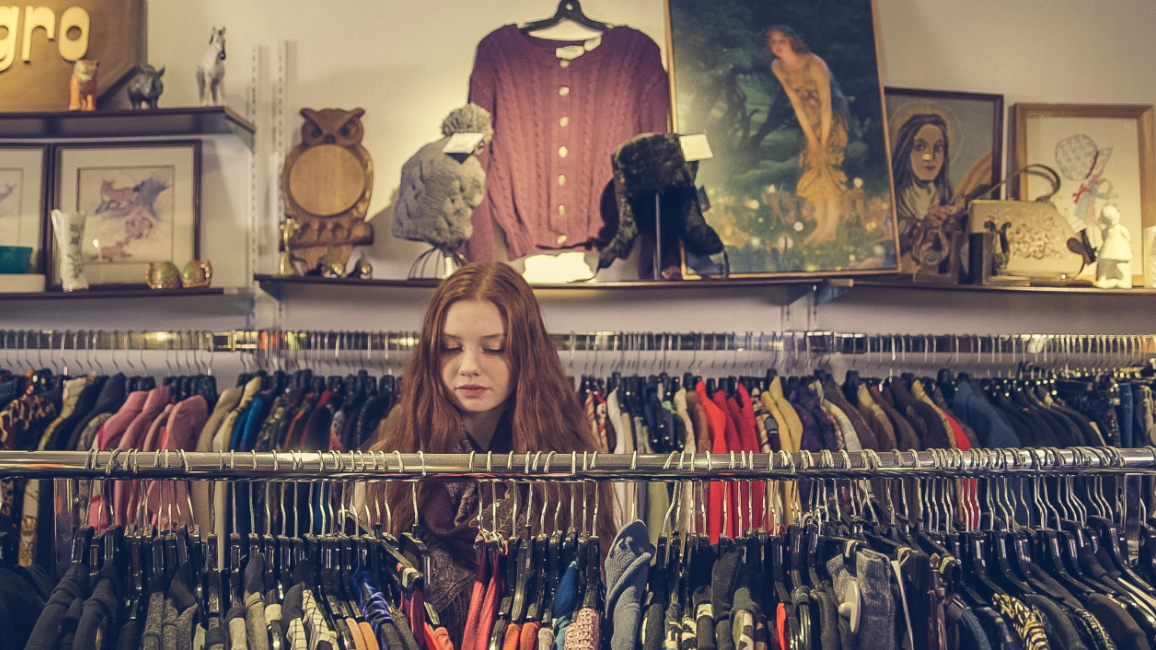 It's already begun
In fact, the question doesn't seem to be whether or not there will be some sort of used clothing revolution, but when. Shoppers and retailers alike are already leaning towards the practice, with 45% of people already saying they would buy pre-owned clothes.
This is tabled by Paul Durkin, Director of Home and eFulfilment at Wincanton: 'This market is still in its early stage however it is gaining momentum and social acceptance. There is evidence shoppers are increasingly turning towards used clothing and studies suggest the market for 'pre-loved' items could even become bigger than 'fast fashion' by 2029. In the UK, in a poll conducted by waste management agency BusinessWaste.co.uk, 45% of the 1,500 respondents said they would buy pre-owned clothes. Established marketplaces such as eBay serve this market on a scale basis whilst we are seeing new entrants, such as Stuffstr, coming into the market and using consumer data to drive re-use of branded products from handbags to trainers. As a result, the circular economy is gaining momentum in the market and across generations.'
It's not just Stuffstr leading the change, either. There are a number of companies getting involved in the used goods market, particularly in the luxury sector.
This is evidenced by Natalia Zakel: 'The wonderful news is that we now live in the golden age of second-hand or circular fashion, and today's key market disruptor is emerging: resale.
'Resale programs like Patagonia's Worn Wear and REI's Used Gear are existing examples of brands who have committed to the cause and capitalised on eco-friendliness. And other brands, especially luxury ones, are recognizing the resale market's potential – an estimated whopping $51B by 2023 – and adjusting their business models. Stella McCartney and Burberry both established partnerships with The RealReal, an online and brick-and-mortar marketplace for authenticated luxury consignment.
'In an effort to promote circular economy in fashion, the partnership will serve to educate and direct consumers who wish to consign their designer items or shop for pre-owned pieces on The RealReal's site. Neiman Marcus just partnered with Fashionphile, a secondary market for luxury handbags and accessories at up to 80% below their original price. In the future, shoppers will be able to drop off their used shoes and bags at Neiman Marcus stores to ship back to Fashionphile.
'Farfetch, an online luxury retail platform, encourages visitors to shop consciously and provides multiple options for 'positive' shopping. Farfetch-ers can trade in their designer handbags with Second Life, donate pre-loved items for store credit with Thrift+, shop conscious brands or 10,000+ pre-owned designer pieces. The resale market forces will force both retailers and consumers to act more positively with unwanted or worn clothes.'
So, essentially, yes. Buying used clothing could well be the next trend in retail. After all, the customer is the powerhouse of the industry, and if the customer is leaning towards environmentalism, so that is how retail should respond.
The perks are succinctly outlined by Alecxa Julia Cristobal of AsiaPay: 'The sustainability overhaul is one of the most definitive movements happening in the world of fashion. It underscores the eco-friendly concept of purchasing clothing brands that minimise waste consumption in cloth production. Not only this, but getting into the pro-environment movement can help retailers garner a loyal customer base. Sustainable branding on your business model is both a commitment and a complex step in managing your product identity, but it's a firm advocation which shoppers will respond to.'
In summary
It's likely that buying used clothing will grow in popularity over the coming years. There's a collective awareness of environmentalism which seems to be growing rapidly, although shoppers are unwilling to pay more for sustainably produced clothing. An obvious alternative is buying second-hand.
A handful of companies have realised this and are already championing the idea, particularly in the luxury sector. If these facilitators ever push out to mainstream clothing brands, then buying used clothing has a good chance of trending, or maybe even going the distance and becoming the norm.
As with all things, commentary on the future can't extend beyond prediction. But the compounding of affordability, ethical validity, and a growing environmental awareness points a convincing arrow towards used clothing becoming a popular retail trend in the near future, and retailers looking to keep ahead of the crest should now be raising the concept in their strategy meetings, at the very least.
Will Gillingham, Content Manager, IMRG