The past few years has presented online retailers with a host of challenges from the impact of Brexit, to the pandemic, to the war in Ukraine and the current cost of living crisis.
But how are things looking right now – and how can retailers optimize their digital strategies to ride out what is a turbulent time?
QueryClick recently hosted a webinar, where their CEO, Chris Liversidge, and IMRG's, Strategy and Insight Director, Andy Mulcahy, discussed this in more detail and share what the latest data is telling us about online retail industry trends.
We have put together a quick overview of the topics covered in this blog – but don't forget to catch up with the full webinar here.
A wide range of factors are impacting growth and ABV right now
Andy opened the webinar by explaining that, in his 12 years of working at IMRG, there has always been a tendency to identify 'disasters' that are going on in retail. But the reality is that there has been a very real cascade of issues for retail in the past couple of years including:
The uncertainty caused both pre and post Brexit
The impact of the pandemic which has had a knock-on effect on everything from radical shifts in buying behaviour to stockpiling effects and a supply chain crisis
The war in Ukraine and the associated cost of living crisis
So, what impact has that had in terms of percentage change in online revenue – for IMRG's panel of 200 retailers?
Taking a look at the past 14-month period for Revenue Growth per year it is clear that there were huge levels of growth – as much as 60% – during the pandemic. The main reason for this being lockdowns which drove trade online. But, since then, there has been a big drop as things rationalise and growth falls into negative territory. The challenge here for retailers is to understand what 'good' looks like – which can be difficult.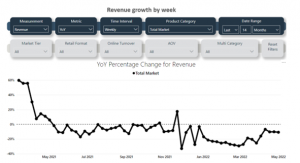 Based on the data, you might expect it to be easy to get growth against 10% in recent months but that isn't the case. Take April as an example. April last year was up 12% but it is down 12% this year, a mirroring effect that tells you there is no growth in online anymore.
However, digging into week-on-week growth data below tells us a bit more about the type of panic that is happening behind the scenes.
This shows a comparison of 2019 v 2022 (using 2019 as the most recent indicative year and removing 2020/21 to reduce the impact of the pandemic which distorted things) and typically you would tend to see a very similar trend between both years over time. Because regular seasonal spikes are typically mirrored year-on-year.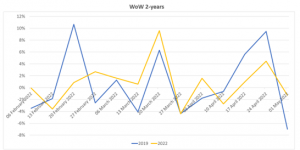 However, it is clear that the Ukraine conflict in February and the current cost of living crisis in April is having a marked effect on confidence. With seasonal spend levels not matching the typical peaks relative to the 2019 data.
Interestingly, this is also feeding through into an increased weekly Average Basket Value (ABV) of £146 which is a record. Up £20 on 2021 and an incredible £40 on 2022!
So, there is huge growth here and Andy explained it is underpinned by a range of factors including price pressures, the fact that people seem to be sticking with premium priced products and an element of bundling of online orders to save on delivery cost. There are some interesting trends in there and we have skipped over them in our summary – so remember to check back on our webinar recording for more of the detail.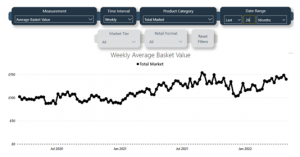 How retailers can leverage digital to optimise spend right now
In the 2nd part of the webinar, Chris took a closer look at how retailers can pick up on the trends above. Particularly, how to identify digital marketing efficiencies and new customer cohorts that enable them to tap into larger average basket sizes.
Firstly, Chris talked about the need to ensure that you can get an accurate view of the impact of your top of funnel digital spending – mainly paid social – which is effectively where retailers get new customers from.
The challenge with this is the poor quality of reporting on Facebook campaigns.
Take the example above for a leading UK retailer – where using Corvidae which is QueryClick's AI driven attribution platform – it was possible to identify that Facebook revenues were being over-reported by 250%.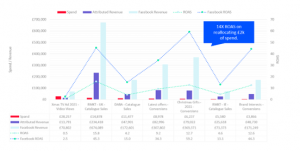 By re-attributing the spend it was possible to reallocate just £2000 worth of spend to deliver 14 times the level of ROAS.
This sort of attributed strategy can also offer online retailers huge CPA opportunities for you across social, display and programmatic channels.
The trick here is to move away from expensive lower funnel activity – up towards the "see" phase of the buying journey. Before someone is making a conscious decision about who they want to buy from, and perhaps even what particular product they want to buy.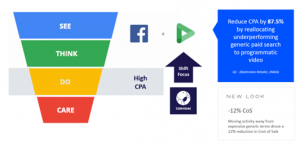 To put that in context, Chris talked about some work with an Electronics retailer in EMEA across 5 countries where QueryClick reduced the CPA by an impressive 87.5% by reallocating underperforming generic paid search to programmatic video.
And when you start to compare the differences in attributed revenue from the big AdTech vendors like Facebook – and in the example below Google (GA) – you really start to identify REAL opportunities for improvement.
In the example above it was possible to identify:
Generic search terms were driving 3x more revenue than GA
Paid social was actually returning more than 5x ROAS than was being reported in GA
The affiliate channel was significantly over-reporting revenue by 270% probably partly due to the cannibalising nature of this type of spend.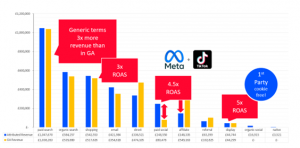 And that is the key for online retailers to be able to take advantage of the types of opportunity around increased basket size. AI-driven insight affords you an accurate view of what is really driving your revenues and can enable you to specifically pinpoint data-driven areas for revenue improvement.
---
To hear more of the detail around this from Chris, make sure to access the full webinar recording here.
Published 16/06/2022