By Ben Sillitoe
Shopify president Harley Finkelstein's YouTube channel series 'The Life of a Rebel' features an interview with Noel Mack, chief brand officer of UK fitness brand Gymshark.
It's difficult not to be impressed with Gymshark's messaging and voice, which spans multiple social channels and is tailored neatly to the audience you find on each, so hearing Mack speak about content creation strategy was, in itself, good content.
In the January interview he talks up being "very aware of what the community want" because the Gymshark team spend time listening to customers, "hanging out in the comments section", but he also highlights the importance of brand proactivity "because people don't always know what they want".
In advice to new emerging brands about bringing a proposition to market, he advises "rather than go out with a megaphone, go out and listen", while also fully acknowledging the positive impact the Gymshark influencer community has had on building the brand.
It's an interesting 18 minutes or so on marketing and brand building, including nuggets about how some of the best performing content in the company's history came in the pandemic lockdown. During that time it motivated influencer partners to inspire their followers with new exercise tips and techniques while the gyms were forced to close, building on a content marketing method that helped grow the brand in the first place.
Temporarily changing its name to "Homeshark", as we've referenced on these pages before, was also a work of genius. Not only did it provide a public service purpose of reminding people to stay at home to stop spreading the virus, but a screen shot of the amended logo is still the most engaged with piece of content ever created by Gymshark.
Freshly inspired by Mack and the Gymshark strategy, I went looking for more tips on what makes good content from retailers, as well as some trail-blazing examples.
Content that inspires
Lee Metters, retail client partner at Awin , an affiliate marketing network, says the recent jump in online shoppers means content sites are likely to have an even greater influence on sales – particularly in the forthcoming pre-Christmas sales period.
Samsung recently partnered with student discount website UNiDAYS, says Metters, to showcase the new functionality of the Galaxy S20 handset range.
"Running an unboxing video with influencer, Ron Timehin, in conjunction with a free giveaway competition, Samsung was able to accumulate exposure on the UNiDAYS site and across their social channels," he explains.
"The campaign delivered +38% on impressions and a 1.2% click-through rate. More impressively, the content created by UNiDAYS accounted for 10% of the total S20 launch sales."
Mark Anderson, senior digital content manager at QueryClick, says the digital agency's client, Salon Services, had to rapidly change content strategy in the pandemic.
"Their target audience are hair and beauty professionals, who in the height of lockdown were unable to work," he notes.
"The strategy with the blog aligned with Salon Services' brand value of putting the customer at the heart of everything they do and content was created that gave practical advice to small business owners and employees for navigating the pandemic and equipped them to protect their businesses and grow as professionals. This resulted in a 406% uplift in organic blog traffic vs the previous year."
Gymshark and Salon Services are just two of many brands that adapted content strategy as the Covid-19 crisis hit the UK. Many retailers avoided the hard sell and went big on wellness advice and tips related to homeworking and interior design, for example.
Indeed, Emily Hakner, associate director of product at digital marketing intelligence company BOSCO, suggests the pandemic could be a watershed moment for stale content.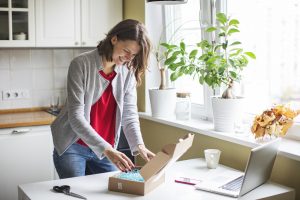 "Consumers are overwhelmed with articles saying the same thing, over and over, she argues, suggesting more personalisation and video are favourable routes to take.
"As consumer expectations and habits have changed, retailers need to pave the way when it comes to their content too."
Hakner namechecks Wickes and Patagonia as retailers with strong content marketing approaches.
The DIY retailer's 'how to' guides and videos on their website are, she says, useful and provide a natural route to purchase.
"Patagonia has recently moved away from long-form content and now focuses on the passions and hobbies of the target audience," she says of the outdoor equipment and clothing retailer.
"Its content now features highly shareable blogs on a range of topics that resonate with its consumers, with a strong focus on education."
Saying the right things in the right way
Rory O'Connor, founder & CEO of Scurri, a delivery management software provider, says striking the right tone shows a retailer or brand is "socially aware" – something that is increasingly important to consumers choosing where to direct their business.
Mental and physical wellbeing, and issues relating to social equality such as those highlighted by the Black Lives Matter movement are all discussed in detail via public forums now – and retailers want to join the conversations in the most appropriate way.
"As we have seen many times beforehand, a brand that doesn't hit the mark with their brand voice in front of a contemporary audience can create a real stink on the public stage," O'Connor comments.
"Those that manage to strike the right tone show themselves, through their sensitivity to their audience and how they communicate with them, and through conviction of their brand ideals, to be authentic, relevant and strong in the eyes of the consumer."
He adds: "Knowing where you start from and being able to authentically flex your tone of voice to speak about current issues, even so-called controversial ones – in a way that still sounds like the brand – is a fine line to tread."
For Brad Houldsworth, head of product at Remarkable Commerce, an eCommerce platform provider, content marketing must be aligned with a brand's campaign strategy.
"This 'campaign-first' mindset will deliver clear and concise messages to your existing and potential customers, this ensures that the marketing being consumed is easily distinguishable and remembered," he says.
"Having campaign themes is an easy way of keeping all of your content heading in the same direction."
Houldsworth also suggests the evolution of "headless commerce technologies" is making it easier for retailers to create digestible content that can be utilised by its websites, apps, social media, in-store screens, and on wearables
"Retailers require the agility which composable headless platforms can give," he argues.
Summary
A word of warning for retailers as they compose their content strategies, though.
Gymshark has, in my personal view, developed a winning formula on social – with digestible behind-the-scenes corporate clips and other impactful content on YouTube, authentic stories from the gym on Facebook and Instagram, and funny Twitter memes. That's even before mentioning TikTok – the breakthrough channel of last year – where Gymshark posts a new video every day with light-hearted, trending gym-related content.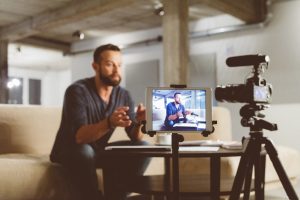 But in July this year it was served a lawsuit by representatives of Sony through the Californian courts. It was claimed the fitness brand had infringed its copyrights by misusing music from some of its most well-known artists on social media content.
The case continues there, and both parties have remained quiet on the situation. But it will be intriguing to see the verdict.
Creating content, conveying information, and developing experiences across multiple channels in the name of compelling brand experience is all part of new retail – each new proposition requires suitable words and communication techniques.
As the creative juices flow, retailers will inevitably try to find fresh ways of doing things, and start-ups – in the words of Mack, in his interview with Finkelstein – will look to "hack" the status quo because they don't have the resources of the established brands.
As they do, it's crucial not to overstep any boundaries. These are all important things to think about in the busy golden quarter, and beyond.
By Ben Sillitoe