By Simon Bird, Co-Founder and CEO at RevLifter
By now, you might have seen the update from IMRG's Online Retail Index that points to a 10.5% fall in the value of ecommerce in the UK during December 2022 vs 2021.
The decline broke all the wrong records as consumers bunkered down during a period that would usually report more optimistic headlines.
Naturally, we shouldn't be too downbeat considering the wider economic trends that are impacting such events. For years, our industry's growth has fed off high levels of consumer confidence. I definitely subscribe to the views of Andy Mulcahy, strategy and insight director at IMRG, who opined that retail is a "confidence game" that rests heavily on consumers being secure with their finances. At least at present, security seems a little hard to come by.
The good news, according to the same index, is that retail traffic levels continue to grow amid the drop in sales and conversions.
Maybe it's hard for shoppers to break the habit of browsing even when their budgets are tight. Perhaps shoppers are lining up a list of purchases to make once the economic outlook or their own financial situation improves.
Regardless of their intention, my take is that brands cannot write-off H1 as a slow period. It's time for retailers to capitalise on the continued appetite for their products and move earlier to drive the needle for growth.
Let's speak to the returning visitors
Data from RevLifter's network of major retailers shows that high-intent audiences continue to exhibit their usual behaviours. It's common for these golden customer segments to revisit a retailer's site multiple times before either making a purchase or deciding against it.
Now is a great time for retailers to set up on-site campaigns that appeal to returning visitors, rather than customers.
Welcome messages containing exclusive deals are one idea. But you can preserve margin by dialling the incentive all the way down by simply educating these audiences on why they should buy with you over anyone else.
Generally speaking, it's common for customers making high-value purchases to make a couple of visits to a retail site before converting, but many more drop off the radar. As traffic remains high, there can be a plan in place for customers when they return.
Incentivise based on a customer's value
If there was ever a time for retailers to run a broad, site-wide promotion, it's not now.
The rising cost of producing goods is resulting in tighter margins, putting Black Friday-level discounts firmly off the table. Still, there is definitely scope to roll out incentives provided the customer meets certain requirements.
You can incentivise customers smartly in H1 through one of three ways. Your first port of call is to tag products not by cost, but by margin. This creates an opportunity to recommend high-margin products to customers checking out with low-margin carts.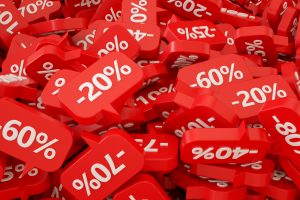 The second option is to structure your promotions in a way that drives incremental revenue. For example, rather than providing a standard "20% off" to all customers, you could save this for converting high-value orders. Customers checking out with low-value orders might be encouraged to spend more for a slightly lower discount.
Another idea is to include or exclude certain audiences from your promotions. Maybe you want to run an exit-intent campaign to reduce cart abandonment, but you're aware that some orders do not justify a discount. Segment your audiences in a way that allows your promotions to trigger on high-value carts and you'll soon see a positive impact.
Speculate to remove guesswork (the paradox that works)
If anyone has a crystal ball to shed some light on what to expect over the coming months, feel free to reach out to me. Until then, our next best hope is to use the tools at our disposal to accurately forecast our returns.
I really like the look of predictive analytics for busting through some of the uncertainty surrounding our industry at the moment.
There are a host of solutions for triggering deals, messages, and recommendations across your site based on a variety of common customer signals. Again, I'll point to the example of an exit-intent campaign, which uses tell-tale signs of abandonment (e.g. mouse movements to the close window button) to spot when a sale might lapse before serving a deal to prevent that from happening.
These types of personalised offers are often effective when launched, but maybe they don't quite meet expectations for performance. Expecting X and falling way short could seriously harm your business. Because the same actions that trigger these campaigns will occur regardless of whether or not they go live, it pays to use tools that speculate your results to avoid wasting time. It's then possible to work on other campaigns that can drive the results you're after.
---
Simon is the Co-Founder and CEO of RevLifter, which helps retailers deliver personalised offers across their entire eCommerce journey.
For more simple tips on growing your revenue in 2023, and to test drive the platform favoured by brands like Boohoo, John Lewis, and New balance, book a free demo.
Published 23/01/22