By Matt Furneaux, Global Commercial Director at Loqate, A GBG Solution
In response to consumer demand, many businesses are choosing to speed up the checkout process by offering digital payment methods like Apple Pay, PayPal, and Google Pay.
And while there's no denying that these make for a slick and user-friendly experience, you might be surprised to hear that digital wallets could lead to poor data quality in your database, friction for customers later down the line, and issues with your data flow through third-party systems.
Let's take a look at why this happens and how you can prevent it.
The rise of digital wallets
We know from our own research that customers love a quick and easy checkout. And according to a report from Worldpay, 58% of UK shoppers are more likely to shop with a brand that offers one-click checkout options.
It's no surprise then that companies are heavily investing in digital improvements to improve online customer journeys, particularly at the checkout or conversion stage.
An increasingly popular strategy many brands are using to achieve this is offering a variety of digital payment options to online customers.
And when you look at the user stats, it's not hard to see why. Figures from Statista indicate that there are 507 million Apple Pay users worldwide. For PayPal, the number of global users is set to hit 223.3 million this year.
What's more, a recent study has found that the total number of digital wallet users will exceed 5.2 billion globally in 2026, up from 3.4 billion in 2022, representing strong growth of over 53%.
When paying with digital wallets could go wrong
So, the demand from customers for digital payment methods is there. And businesses are meeting this demand. Problem solved, right? Well, not quite.
Unfortunately, a growing number of companies are experiencing issues with the address data they receive from these digital wallets.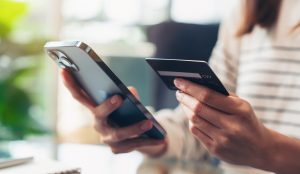 One of the key issues with digital payment apps is the reliance on customers to keep their address details updated. If a customer moves house, for example, they may not think to go into their digital wallet settings and change their address details.
Of course, if this happens and they purchase something online, the parcel is going to end up at the customer's old address or security checks will not pass the first time. And even though the mistake was made by the customer, the error will cost you time and money by having to cancel, decline, refund or re-route the customer's order.
Another issue is the way address data is pulled from digital wallet services. For example, to the user, their address may appear in its normal format on the screen. However, once the data has been extrapolated and reaches the company's platform back-end, it is not standardised and may even be incorrect…
When this occurs, it's up to you to then manually check the data which, is costly and time-consuming.
In fact, according to the 1-10-100 rule, created by Yu Sand Chang and George Labovitz in the early 90s, the cost of verifying a record as it is entered is $1 per record. The cost of remediation to fix errors after they are created is $10 per record. The cost of inaction is $100 per record per year. So, prevention is less costly than correction which is less costly than failure.
How to prevent poor data quality from digital wallets
Despite digital payment methods being great for giving customers a slick checkout experience, the reality is that mistakes can and do happen. And these mistakes can lead to failed deliveries, customer complaints, declined compliance checks, poor customer experience, and bad data landing in your database. So, what can be done?
The primary issue with digital wallet payments is that they bypass the need for customers to enter their addresses at the checkout or conversion stage. And without immediately catching and rectifying data issues at the point of entry, there's no way of knowing whether the customer's address is valid, up to date, complete, or structured properly.
This is where back-end processing of your data is crucial. Address verification can be used in combination with these digital payment methods, helping to combat common causes of bad data to help you achieve the highest level of data quality and accuracy.
When a customer address enters your database, address verification can automatically analyse, format, and enhance that data, before recommending the correct and most complete address to the customer for confirmation.
By appending incomplete or inaccurate records with data from a curated collection of global addresses, you can reduce failed deliveries and order cancellations and, consequently, deliver superior customer experiences.
---
Find out more about improving data quality or connect with one of Loqate's data experts here.
Published 29/06/2023