By Mai Bonham-Carter, Team Leader at Awin
Many UK small-to-medium (SME) brands are continuing to face economic pressures in a post-pandemic society. With inflation peaking at 9.9% in July, the highest rate seen in the UK for nearly 40 years, and external military affairs in Ukraine impacting exports, SME's are absorbing price rises from core materials, supply chain, rent, and logistics, whilst balancing price increases for customers and consumer buying confidence. With uncertainty set to be the only certainty for the next twelve months, how can SMEs optimise the affiliate channel during an economic crisis?
The affiliate channel often empowers SMEs to leverage a vast and innovative partner landscape to drive return on investment on a low-risk payment model. With the emergence of less 'traditional' publishers, such as incentive networks, comparison shopping sites (CSS) and influencers, a diverse publisher mix offers SMEs the potential for revenue growth and access to new audiences without negatively impacting brand value.
1. Focus on conversion
Customers are already feeling the economic pinch, which means brands might reconsider the consumer funnel from awareness through to conversion. More customers than ever will be cost-conscious and deal savvy. Consumer convenience will play a huge part in SME customer acquisition as UK consumers fear further price hikes, and we may see a short-term surge in consumer willingness to spend ahead of future uncertainty.
SMEs can leverage strategic discounting to clinch conversions. The flexibility of voucher codes empowers brands to seamlessly execute exclusive and variable voucher code strategies that can be easily managed, monitored, and tracked from within user interfaces. For example, brands can shift away from sitewide discounting, opting for changeable messaging, including 'spend and save' ('save £15 when you spend £150') and product or SKU-specific offers. They can also implement discount audience segmentation such as rewarding loyal customers and incentivising repeat purchase.
There has been huge growth in SMEs partnering with AI technology partners via the affiliate channel. Having a portfolio of technology partners helps to optimise onsite conversions and understand customer purchase behaviour. For example, increasingly, product bundling technology, drives conversion, upsells and increases AOV, presenting customers with products and items commonly bought together.
2. Reward with card linking offers
As it stands, the current economic fallout is not expected to settle until 2023, posing a huge threat to Cyber Weekend and seasonal sales. On average, UK consumers are facing up to an 80% rise in energy bills, meaning that many households will be tightening budgets in order to heat their homes. This lingering living concern will directly affect purchase decisions over the Golden Quarter.
Rewarding consumers at a time when confidence is low is something affiliate marketers can achieve by fostering partnerships with card linking affiliates. Despite being a fairly new partner type within the affiliate landscape, there has been an influx in new card linking partners over the last 12 months. Card linked offers (CLOs) offer consumers reward points or cashback linked to payment card/s.
Supporting consumers with easy-access value-adding retailer rewards helps to drive brand affinity and creates a new audience pool characterised by incrementality and high order value.
3. Flexible payment options
Rising costs correspond with less disposable income. At a time where bank interest rates are high, taking out loans and credit cards for many is a last resort. Buy Now Pay Later (BNPL) platforms have increased in popularity with consumers due to the level of flexibility they offer without reliance on borrowing.
Partnering with BNPL platforms via the affiliate channel can provide brands with an opportunity to reach audiences with a higher likelihood of repeat purchasing. Currently, online BNPL purchases are growing at a rate of 39% per year, indicating this particular purchase type is becoming increasingly familiar and favourable, and is even reported to 'de-stress' consumers when thinking about their finances. Within an all-in-one app, users receive a tailored buying experience and brands can collect additional marketing insights by branching into this consumer purchase pattern. SME's can increase their visibility with an audience that has a high propensity to spend and secure customer retention.
4. Influencer Activity
Traditionally, influencer activity was synonymous with large spend, particularly if brands wanted to collaborate with content creators with high following and engagement. However, in recent years there has been a general decline in the level of trust with these types of macro influencers, with consumers finding micro and nano influencers more relatable.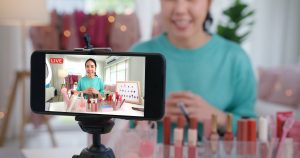 The affiliate channel provides opportunities for content creators to engage with brands on paid placements, gifting campaigns and CPA performance models, and drive brand affinity with always-on activity. For SME's wanting to consolidate their content activity via their affiliate programme, influencer partnerships offer a plethora of worthwhile opportunities across different campaign types and payment models.
For example, Room Unlocked offers a platform for brands working with influencers on a gifting-only basis, enabling brands to easily identify authentic creators with an organic affiliation for a product or service. This can save time when it comes to outreach whilst also delivering higher engagement and brand loyalty. Gifting platforms often provide SME's with low-risk, entry-level access to influencer content partnerships, driving upper funnel performance and publisher diversification. This is even more significant during a cost-sensitive time where customer retention could be at risk.
Performance-driven influencer activity can aid in bolstering brand awareness.
While there is still some level of uncertainty surrounding the outcome of the current cost-of-living crisis, affiliate marketing can offer positive strategic value during this time. By harnessing the benefits that comes with a diverse and customer driven partner eco-system, SME's might see that their affiliate strategy can prove to be a sustainable and cost-effective digital channel.
Published 15/11/2022