By Rich Illingworth, Business Development Manager at Huboo
The pandemic has shaken up people's drinking habits in a big way. As our living and working patterns have shifted, after-work drinks and regular pub meet-ups are no longer as commonplace as pre-Covid, and at-home drinking has increased. This has resulted in the strong growth of the off-trade alcohol category in the UK, a trend that has been mirrored across many markets in Europe.
In the immediate wake of Brexit, many smaller online retailers abandoned the idea of exporting into Europe altogether, and total exports from the UK to Europe fell by 13.1% in the first half of 2021. But as the dust has settled, border control changes have become more of a known entity, giving businesses a clearer road map of how to get goods into Europe. What's more, prices for services such as couriers, which had shot up, now seem to be moving closer to pre-Brexit levels.
As a result, European ecommerce is becoming increasingly attractive for many online alcohol retailers – from flagship brands to innovative start-ups launched during the pandemic. Here are five ways companies can capitalise on the cross-continental opportunity.
1. Understand demand
The first step in any overseas venture is understanding where alcohol sales are coming from and devise expansion plans accordingly. Online retailers are fortunate to have a wealth of data at their fingertips, not only from their own channels, but also from online marketplace data. All of which can help them get a deeper understanding of who their customers are, as well as their shopping habits and geographic spread.
Alcohol ecommerce companies can also tap into market trends data to get a better understanding of D2C alcohol trends across Europe, as well as predict where the market is heading next. It all contributes to a clearer understanding of where the most significant opportunities lie, empowering retailers to better plan their overseas expansions.
2. Map out the logistics
Once retailers have identified their target market, the next step is to work out how to get their product to customers via the quickest and most cost-effective transport routes.
A third-party logistics provider may be able to provide ecommerce businesses with the expertise they need to map the best transport lanes and get their alcohol into the hands of the consumer more quickly, helping them meet the all-important two to three days delivery criteria necessary for local market sales success.
However, not all providers are created equal. Alcohol retailers might look for a provider that has access to centrally-located, or even multiple, distribution centres across Europe. This could enable them to house stock in locations with ready access to the most viable transport lanes. For example, Germany is a great distribution hub for European sales as it is centrally located with good transport links into central, southern, and eastern Europe.
3. Access specialist couriers
A trusted logistics partner can also link retailers up with local, reliable couriers, allowing them to strike the right balance of speed, service, and affordability, for each order taken. This is even more compelling when you consider that many established couriers won't transport most alcoholic goods since they may not be equipped to deal with hazmat, or are not set up to do the necessary point-of-delivery ID checks. Subsequently, retailers may find themselves struggling to locate reputable firms that won't break the bank.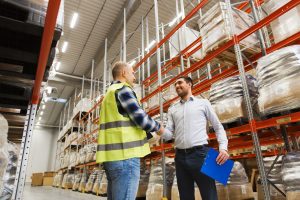 Ecommerce businesses can plug into pre-existing networks to enable them to deliver alcoholic products safely and reliably.
4. Compliance, compliance, compliance!
Personal alcohol licences, premises licences, bonding and exercise duties, and VAT registration, are just some of the legal requirements for businesses looking to sell into Europe. And even within the EU, countries differ wildly in terms of their rules and regulations. For example, legal requirements in Spain are much more stringent than they are in other countries in Europe, making it far more difficult to get alcoholic goods on the ground.
But a more complex regulatory backdrop needn't stand in the way of a compelling business opportunity. Online retailers could begin to try and understand specific country requirements, and fulfil the necessary documentation needed to make sure their new business venture is fully compliant.
5. Fulfilment shouldn't be an afterthought
A customer's impression of a business will not only be based on the quality of the product, but also on the speed and reliability of delivery, and the condition of products on arrival. Each interaction with a customer – either new or returning – is critical, and alcohol retailers will lose out on repeat custom and potential customers if their product arrives late or in a bad state. Fulfilment is integral to any successful brand launch and can be built into expansion planning from the very outset to give businesses the best chance of European success.
Published 08/11/2022