By Emily Black, Content Executive and Analyst at IMRG
In 2021, no retailer was safe from the knock-on effects of supply chain problems; driver shortages, delayed stock, and the soaring price of acquisition. The issues caused year-long chaos, and even the online giants weren't immune; with headlines such as, 'ASOS takes a hit from Omicron as supply chain costs soar'* everyone was paying a premium. So what did this mean for the festive period, and did retailers manage to overcome their challenges, and pull through the chaos for the holidays?
It's no secret that Black Friday didn't perform particularly well this year, as YoY growth was down -14.3%—the lowest ever recorded here at IMRG. Black Friday is one of the prime opportunities for shoppers to browse bargains, and get some of their Christmas shopping done. Jim Herbert, GM BigCommerce EMEA noticed a change in shopper's payment habits, as he commented, 'During this holiday season, we saw an increasing number of customers shopping on mobile and across multiple channels. Alternative payment methods such as BNPL solutions also grew in popularity. Overall in EMEA, we noticed Cyber Week continues to gain some ground especially in the fashion and jewellery sector, though there were sectors that were impacted by widely reported supply issues during the holiday season.'
The proximity to Christmas makes Black Friday one of the most important times of year for retailers, with opportunities for a huge volume of sales. However, many retailers found that delays caused by a lack of warehouse workers, seasonal staff, and HGV drivers, meant they didn't have the right stock in time, and were therefore just trying to sell the items they did have. It's thought that this factor will have impacted Black Friday performance, and could be one of the reasons that the day, and the broader period, were down. People weren't finding the stock that they wanted, therefore performance and growth couldn't match the previous year.
Looking to the future, Mel Tymm, Industry Principal at Maginus, says that, 'Retailers may want to harness the power of consumer data to learn about which products sold best, which messaging resonated most and how consumers are behaving in light of further pandemic uncertainty, to guide their planning for 2022. Rich data can also enable the implementation of more personal services, e.g. recommending options based on previous baskets, that will boost customer experience and allow retailers to gain a competitive edge in a challenging environment.
On the other hand, there's some suggestions that Black Friday may be becoming less of a phenomenon for customers. Shoppers could have already purchased the items they wanted or needed ahead of Black Friday, because they were worried about it going out of stock—therefore there was less pressure on discounting to drive sales. Laura Hood, Paid Search Account Manager at QueryClick said that, 'In 2021, many of our retail clients decided to alter their strategy around seasonal promotions, steering away from Black Friday. Especially in highly competitive spaces like hair and beauty it can be difficult to stand out. One client in that sector held off their big seasonal offer until December and saw great results. Another client, an outdoor clothing and equipment specialist, did not participate in Black Friday and continued to push their full price lines and saw a great return over the Black Friday weekend. With retailers continually in and out of sale and promotions this year, perhaps Black Friday's novelty wore off.'
A couple of weeks before Christmas, the Omicron variant became a huge problem, as cases were increasing exponentially. Lucy Topping, Senior Performance Marketing Manager at Modo25, at "With Omicron becoming rampant throughout Q4 and into Q1, there was a level of expectancy that online ecommerce would continue to spike, as more and more customers became hesitant to shop in-store.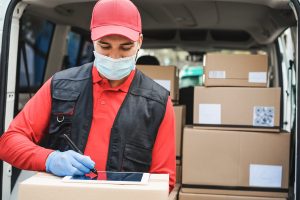 However, the ecommerce space does seem to have struggled this peak season across defined verticals, with many retailers experiencing onsite traffic declines when comparing year on year data. If December has taught us anything, it may be that retailers should learn to become less reliant on Cyber Week and Christmas sale spikes in order to drive performance, and instead ensure a consistent and valuable customer experience throughout the quarter as a whole."
By the 20th December, there were 45,145 confirmed Omicron cases in the UK. This impacted the number of people who were able to work, causing further staff shortages. The number of people isolating was increasing, and as it did so, there were more delays with getting items to customers ahead of Christmas. Some retailers said that they had attempted to mitigate the negative reaction to such delays, by including disclaimers on their website, making customers aware that they may have to expect a slightly longer waiting time. However, shoppers were eager to have their gifts in time for Christmas day.
Matthew Furneaux, Global Commercial Director at Loqate commented that, 'Looking at online transactions from our 20,000 customers, we saw that online retail across our customer base performed equally well, if not better, in 2021 compared to 2020, which should come as a huge boost for those who were concerned after Black Friday. Although there was more traffic in 2020, the week after Black Friday, we saw more people heading online for their pre-Christmas shopping, which may come as a surprise given that more shops were open, and restrictions were not in place.'
The graph below depicts revenue growth during December, from our digital dashboard. YoY revenue growth, split by week, was down by almost -30% at its lowest in December (-6.4% overall). The entire month remained negative, particularly in the run up to Christmas day, where the figures couldn't match those of 2020—when lockdowns meant that everyone was shopping online. As of the 2nd of January 2022, YoY market revenue was down -21.1%, reflecting both supply chain struggles, and an inability to match the growth of January 2021, when the lockdowns dominated Christmas.
When looking at month on month growth, instead of year on year, we can see that the data tells a different story. Whilst in 2021 November is seen to be down compared to the two years before (the grey line sitting below the orange and blue lines), it's the opposite for December. The 2021 line now sits above that of the two years before, therefore suggesting that the negative growth of -6.4% in December isn't actually as indicative of quite so sharp a decline as we might think. Yes, December results were pulled down by November's flop, however, retailers seemed to pull through the Christmas period, despite the challenges presented by the supply chain.
Nick Sibley, Product Marketing Manager at Amplience says that, "Retailers also need to make sure everything is consistent and rapid. To be agile, you must move fast, and whilst maintaining consistency across all channels—from your app to your website content. Managing content and changes effectively on all these channels requires ways of working and functionality that legacy systems weren't designed to deliver. Essentially, the challenge is executing the level of agility that the last couple of years have demanded."
One of the ways in which the overcapacity of the supply chain manifested itself, was in the delivery issues experienced by customers. Many of us might have anecdotal stories of poor delivery over this festive period (which the media often pounce on, making the issues seem more common than they actually are), including delivery drivers not showing up, but marking the item as 'delivered', an expensive dish arriving smashed…twice, items being thrown into hedges, and even couriers forging signatures. Dora Birna, Vice President of Marketing and Growth at parcelLab said that, 'Our observations regarding the ongoing supply chain issues do not paint the UK in a particularly positive light. In fact, parcelLab's data shows that though the supply chain crisis was being presented as a global phenomenon, UK consumers reported a disproportionate affect, with nearly two fifths (39%) claiming they had placed an order that never arrived, compared to just 18% in the US, 22% in France, and 23% in Germany. 35% reported that a negative experience with online shopping would make them unwilling to order from that retailer again. While some delays may be unavoidable, the key for businesses is to ensure the customer is kept at the heart of everything.'
With regular delivery workers off sick, HGV drivers hard to find, and warehouse workers continually moving to different companies with better pay, it seemed inevitable that there would be consequences for both the customer and the retailer. Michael Kay, Head of Retail at Lockton, said that, 'Whilst it is vital that customer experience stay as seamless as possible during these challenging times, it's also thought that shoppers might have been more understanding too, as we were all aware of the uncertainty and difficulties surrounding Christmas 2021.'
Customer service was affected as a whole, with many retailers closing down particular helpline channels, and prioritising only one which they could keep open. Sean Sherwin-Smith, from HelloDone, said that, 'The expected response and resolution times are growing, and customers will not allow for tardy response times. 37% expect a response within an hour. 16% (and growing) expect an instant response. The result of not meeting these expectations is to lose the customers loyalty which has huge implications on sales.'
Beyond Christmas, there was also the returns process to think about, for those who were unlucky and needed to return their gifts. 'Most returns happen in physical stores, so it's important that retailers make this process as easy as possible for customers — having a safe and accessible physical touchpoint with a brand is crucial. ONS figures have also shown that online still only makes up around 30-40% of total sales in retail, so the omnichannel approach remained key this Christmas,' said Payal Hindocha, from Emarsys.
To conclude, whilst retailers were dealt continual problems over the festive period, it seems that on some level they were able to overcome this. Alex Marsh, Head of Klarna UK, who said that, 'Over the past couple of years consumer shopping preferences have changed faster than ever. In the UK especially, in the last quarter of the year we saw more people (56%) preferring to make all of their purchases online if they had to choose and (57%) planning to spend the majority of their money online in a year from now, which is more than in any other country and is on an upward trend compared to Q1.'With December growth down -6.4% YoY, it may in fact be more useful to look to the positive MoM measure, to see the way in which ecommerce has bounced back after a tough November.
Published 18/01/2022
*Source: Retail Gazette