By Ben Sillitoe, retail journalist and IMRG content contributor
The emotive subject of retail returns has leapfrogged up the industry agenda again after Zara and Boohoo started charging for online returns earlier this year.
It prompts the question, will it cause a domino effect of other online pure-plays and multichannel retailers adopting a similar approach?
Homeward bound
Let's get to the nitty gritty. Returns are a headache for retailers – and despite much industry debate about what to do about them, it's a pain that lingers.
It's simply part of doing retail, or something that must be accepted as e-commerce grows are often the lines touted by retailers and sector commentators.
As the industry knows only too well, it is not a straightforward process to manage the reverse logistics journey of previously sold products. Whether returns are placed directly back into inventory, repaired and restocked, resold for a discount, or destroyed, retailers agree their lives would be easier if they didn't have to deal with so many of them.
Both Asos and Boohoo have revealed this year that soaring returns rates are among several factors holding back their bottom-line growth. And Next revealed that its first-half online returns levels reached pre-pandemic rates again – a not insignificant 42% of its online orders are returned by customers.
In her recent appearance on a LinkedIn Live Series with IMRG, Rebound Returns' Laura Garrett said the five keywords retailers must take into account when considering how to create a suitable customers returns experience are "fast, choice, easy, time, and sustainable". The last on that list used to be free/cost, according to Garrett, but she noted that times have changed.
Valerie Faguet, head of marketing at DigitalGenius goes a step further, saying: "Knowing their customers and delivering more personalised experiences is the answer.
"Brands need to differentiate their 'fully engaged' customers from the 'indifferent' customers, and offer personalised returns processes depending on their profile."
Why don't you write me?
There was a typical outpouring of consumer annoyance across social media when Boohoo and Zara made their announcements, with some customers claiming the moves were made too quietly. It shows how crucial managing communications around returns policy is.
In May, Inditex-owned Zara began charging customers £1.95 for sending back items via third parties. Anyone returning products to stores is not charged a fee, though, highlighting it as a move to cover costs rather than a way to make more money.
As the summer arrived, Boohoo told shoppers they would be deducted £1.99 from their refund when returning goods.
Next and Uniqlo are among the larger retailers that have charged customers returns for some time now, but perhaps Zara and Boohoo's moves in 2022 will kickstart a process of similar activity from other big industry players. Or maybe competitors will steadfastly stick to free returns as a way of standing out from their rivals.
As Liam Rogan, out of home director at Yodel, argues: "As retailers look to reduce their shipping costs, removing the option to return for free could potentially work against them, as consumers may choose to purchase from alternative retailers who still offer this service."
Returns are certainly on the minds of execs, with Asos COO Mat Dunn saying in June the "significant increase in returns rates" in the third quarter of the retailer's financial year showed "inflationary pressure is increasingly impacting our customers' shopping behaviour".
These comments imply shoppers are returning items because they are being more cautious about their spending but also, perhaps, changing their mind about previous purchases and getting cold feet as soon as they have made a transaction.
Natashia Redfern, vice president, UK country sales director at ESW, says: "The majority of brands will be closely monitoring to see what happens next for the outliers who have implemented paid-for returns and watching to see how shoppers respond.
"It's a brave decision to make in the current economic climate when most businesses are focused on removing barriers to conversion and, as such, we would advise clients and prospects to offer free returns or indeed to be very sensitive to sweeping changes to their returns being a costly barrier to front end conversion rates and ultimately revenues."
Nick Williams, head of strategic partners & products: parcels at PayPoint, notes: "Although there has been a shift towards an end of free returns from online retailers, the most important issue for the customer remains ease of return and speed of refund.
"An increase in print-in-store returns, as online retailers phase out return slips, strongly indicates that although the cost of a return will continue to be a debated issue, one thing customers won't compromise on is time."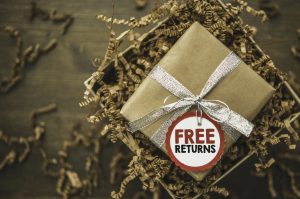 This subject of returns and whether retailers need to charge for them has many twists and turns to come, it seems.
Keep the customer satisfied
According to Rebound's Garrett, consumer expectations around returns have changed considerably since the pandemic.
Prior to the global health crisis, research from Rebound showed 63% of customers expected a 30-day returns window. Now 76% of shoppers want retailers to offer more time.
This may be a result of retailers extending their returns policies in the early stages of the pandemic when we lived in very uncertain times and retailers did what they could to be flexible for customers and ease the pressure on their own operations. Most retailers have brought the 30-day window back now – but there may be shoppers who got used to having a longer time to return, and therefore can't understand why it's now shorter.
Garrett said historically people expected free returns but now 69% of UK customers are happy to pay for returns providing it is subsidising more eco-conscious developments within a retailer's operations. Combining that stat with her earlier comment about sustainability replacing cost in the top five customer returns considerations, maybe Zara and Boohoo's moves won't have a negative long-term impact on shopper loyalty.
Above all else, shoppers want choice when it comes to returns, according to Garrett. Some 92% of respondents to the Rebound survey said the availability of a range of returns options is important when deciding to shop with a brand in the first place.
Indeed, Gavin Warwick, European partnership manager at SmartFreight, argues: "Retailers must walk a fine line between cost control and the customer delivery experience, and giving returns choices may be a way to walk it successfully."
Research from Emarsys into consumer behaviour shows for 45% of consumers, brands lacking a free returns policy is enough to put them off buying. A further 48% indicated that free returns is the most important consideration for them, after discounts.
Sara Richter, CMO at Emarsys, says: "With the ongoing cost-of-living crisis, brands need to ensure they attract as many customers as possible."
Jamie Saucedo, senior Vice President, Business Operations at PFS, says: "Retailers have the power to negotiate rates with their preferred carrier, lessening the blow to the customer.
"Also, by offering home pick-up for example, the experience is seamless and easy, that convenience goes some way to justify the price."
Scurri's chief revenue officer, Fergal O'Carroll, comments: "As vital as it is to provide a seamless returns experience, businesses frequently overlook the importance of reducing the number of returns in the first place.
"There are sound business and environmental reasons for doing so."
Thomas Kasemir, chief product officer at Productsup, adds: "Knowing that consumer spending is declining, there are ways to reduce the number of returns that don't cost customers more money.
"If retailers clean, update, and enhance their product information in listings and ads, such as including whether or not a clothing item is true to size, shoppers can make more informed purchases – lowering the chance that they'll be unhappy once it's delivered."
More insight into what retailers can do about returns strategy should materialise before the end of 2022, with the consultancy Roland Berger commissioned by the British Fashion Council (BFC) to help solve the returns problem.
The project is part of the work of the BFC's Institute of Positive Fashion, and will cover the direct and hidden costs associated with fashion retail returns as well as other impacts such as those of an environmental nature.
Siobhan Gehin, head of Roland Berger's UK retail and consumer goods division, said it is "essential" for fashion retailers to identify ways to keep value in their businesses and divert returns from landfill.
"We are extremely pleased to be working with the BFC/IPF to explore the financial, environmental and social impact of returns and provide solutions that mitigate the costs and impact on the environment," she added.
The results will be interesting to read, hopefully providing some guidance for retailers before the year is out.
Published 27/09/2022