New research findings highlight that, with only 53% of UK consumers preferring the online shopping experience to the in-person, pure-play ecommerce retailers need to take action or risk losing much of the additional business they acquired during 2020/21 –
Jérémy Dallois, CEO, ReachFive explains.
The enforced lockdowns imposed during COVID-19 changed consumer buying behaviour, with people forced to shop online for essential and non-essential goods alike. However, as new UK and European consumer research confirms, for many online-only retailers, this change looks unlikely to be a permanent shift. Conducted during August and September '21, by Sapio Research on behalf of ReachFive, the study of 2000+ consumers highlights fundamental pain points and frustrations with the ecommerce experience that retailers must address to convince 'online doubters' to stay. At its core lies a concern over the exchange of – and use of – personal information.
The study's key findings include:
Consumers (54%) are far happier to share personal information if they are clear on what it will be used for.
Timing is everything when asking consumers to create online shopping accounts: 36% of UK respondents are likely to abandon the buying journey when asked to create an account up-front to access a site.
Consumers (67%) are reluctant to share personal information online if they perceive a lack of transparency in how their data will be used.
In addition, the study revealed interesting comparisons between UK and European consumers. While 53% of British shoppers stated they prefer the online experience, compared to only 46% of French consumers surveyed, UK respondents are significantly more impatient with account creation than their French counterparts and also have far less faith in brands' ability to handle their data correctly (25% compared to 15%).
That is not to say that consumers are against creating online accounts altogether. Far from it, in fact. Just over half (51%) think there may be a benefit to creating an account and sharing personal information depending on the context and type of purchase. Retailers should, therefore, consider a repositioning of the account creation process. Instead of demanding that shoppers enter large amounts of information up front when they might not have time, retailers should consider allowing customers to create accounts with the minimum contact information needed to fulfil the order. Where possible, retailers managing multiple online brands should limit repetitive data entry requirements by offering a single online login that works across their house of brands.
In addition, it is clear that better communication about data use is needed from retailers – although this is not enough in isolation. However explicit retailers are about how they are using personal data, their efforts will fall flat if trust between retailers and consumers isn't established to begin with. Retailers will need to 'walk the walk' by actively demonstrating that they can be trusted with consumer data. Consumers need to be able to share their personal information knowing that it is secure; not going to be shared with anyone else; and is being used by the brand they shared it with to provide a better standard of service. Retailers should also provide reassurance that data will not be passed on without consumers' express permission, and that any data held will be permanently deleted on request.
Recommendations include:
Personalised benefits should be offered to consumers who participate in a fair trade for data they are willing to disclose.
This 'give to get' system should offer exclusive benefits (discounts, access to new products, preferred delivery…) based on individual customer preferences to improve their shopping experience.
Tell your customers what you are going to use their data for, specifically how it benefits them.
Given the current state of play with regard to the Omicron variant, it may be possible that they may have slightly more time than expected at the time the study was carried out. The fact remains that, unless pure-play ecommerce retailers make fairly significant changes to the way in which they treat consumers' personal information, it seems that it will only be a matter of time before they lose the ground they gained over the last two years back to the high street.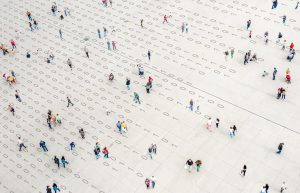 The onus is on retailers to find a fair, balanced system for customer identity and access management, with a genuinely, mutually beneficial exchange of data in return for personalised benefits and an improved consumer experience. Whilst our research indicates how this can be achieved, there needs to be a process of discovery around exactly what it will take for individual consumers to be motivated to share additional information with retailers. After all, this is likely to vary based on a number of factors including type of purchase – customer demographics, geographic location and simple personal preferences. A degree of trial and error will be necessary in order to determine the optimum incentives that retailers should provide to gain access to the specific consumer data that they desire.
Ultimately, the key is to empower consumers with direct control over their identity data to allow a frictionless experience for customers, whilst at the same time enabling brands to maximise the usage and potential of insights drawn.
---
Methodology:
The interviews were conducted online by Sapio Research in August and September 2021 using an email invitation and an online survey. The survey was conducted by SAPIO Research on behalf of ReachFive, among 1002 consumers in the UK and 1017 in France. At an overall level results are accurate to ± 2.2% at 95% confidence limits assuming a result of 50%.
About ReachFive:
ReachFive's Customer Identity & Access Management (CIAM) was built from inception for a seam- less, secure and trusted customer experience – omnichannel, multi-device, distributed, convenience and customer control.
ReachFive's cloud-based, API-first platform provides the speed to deploy consumer identity and ac- cess management at global scale, while maximising agility to keep up with the pace of digital change. Leading companies such as L'Occitane, Boulanger, Etam Group, Hachette Group, La Compagnie des Alpes, Monoprix, E.Leclerc and Naturalia use ReachFive to drive higher lifetime customer value, and improve marketing, commerce and customer service results.
Website: https://www.reachfive.com Email: [email protected]
Published 20/12/21