By Emily Black, Content Executive and Analyst at IMRG
With IMRG's Fashion Connect events (day one, physical; day two, virtual) coming up on the 9th and 10th of February, we're putting the focus on fashion. What's been happening in the industry, and what have retailers observed about performance?
In 2020, fashion was only up +1% YoY, which was due to the pandemic. Whilst categories such as electricals boomed (+100%, 2021 indexed against 2019) due to furlough and working from home freeing up shoppers' income, there was less demand for clothes, as everyone was stuck indoors. Unfortunately, the fashion industry generally missed out on the really high pandemic growth which some other retail categories saw.
Within the subcategories, items such as trainers and athleisure-wear performed well, due to increased demand from home-body shoppers, but formalwear and shoes took a nose-dive. However, it's not all as bad as we might think, since our digital dashboard shows us that in 2021, the index is up +20% in fashion over the past two years—marking an overall profit. Fashion has grown over the course of the pandemic, but it's not seen the soaring highs that many observed during the first year (when multichannel retailers experienced enormous online growth).
As of January 2022, clothing, menswear, womenswear, and footwear were the only categories showing positive growth. Whilst this does suggest some form of recovery, it's also just another indicator of how poor the previous year was for fashion.
(Source: IMRG Digital Dashboard)
The graph below shows the drop in clothing sales from April 2021, as the high street reopened after lockdowns. The YoY index shows huge growth at the start of the year, because compared to the low level of sales in 2020, 2021 clothing performed extremely well. Multichannel retailers contributed to a lot of this growth, as people who'd been shopping in their physical stores often moved to their websites, causing a spike in online activity. When the high streets reopened, these customers went back to in-store experiences in some capacity, and the drop off in online growth can be seen for the rest of the year.
(Source: IMRG Digital Dashboard)
There were also some interesting shifts in terms of traffic, as observed in the graph below. Menswear saw the most traffic growth, whilst womenswear, clothing, and footwear saw similar fluctuations. As expected, we can see that traffic peaked around November and December, when compared month on month. But it must be noted that when looking at YoY, traffic was actually down -14.3% on the day of Black Friday itself. This was for similar reasons as in our YoY growth graph, above, because 2021 traffic couldn't match that of 2020, during the lockdowns. Whilst many smaller fashion retailers grew during this time, this meant that there was a huge amount of competition for getting the customers onto their websites. With the high street open and less shoppers online, there was more competitions between all these new retailers.
(Source: IMRG Digital Dashboard)
When we look to the future, what does it have in store in 2022? Whilst the future of fashion may depend on socio-economic factors, such as the pandemic—perhaps reaching something like its endgame—there is plenty that retailers can do to best prepare for any eventuality. I spoke to industry-leaders, to find out what they thought about the market at the moment, and how retailers can prepare for the year ahead.
Alex Baulf, Senior Director of Global Indirect Tax at Avalara suggests that, 'Fashion retailers now need to prepare for Extended Producer Responsibility (EPR) measures in the EU. This is the idea that if you distribute, sell, or manufacture goods then you must take responsibility in what happens to them in terms of recycling and not letting them go going to waste. We are starting to see more tax authorities levy EPR charges and ecotaxes against businesses, and these measures and obligations will spread to marketplaces in some European countries in 2022'.
Lee Metters, from Awin, made some interesting suggestions around where the growth in fashion has been experienced, as he claimed that, 'The reopening of high street stores in April 2021 proffered doubts over the continued rise in online fashion sales. However, sales tracked onto the Awin network, surmounted expectations. From April onwards, sales and traffic increased +6% and +10% respectively. Delving further, the greatest rate of growth came from Menswear, up +36% YoY, and Womenswear, up +23% YoY. Interestingly, pandemic hero items, Sportswear and Loungewear decreased by 14% YoY, as a result of lockdown restrictions easing and more people returning to the office'.
David Lockwood, the Co-founder and Director of Analytics at The Tapestry Agency says that, 'We're beginning to see consumer attitudes change toward fashion. There's a shift away from fast fashion and a move to 'cost per wear', with buyers making conscious decisions to invest more in quality clothing they expect to wear for many years. At the same time, brands are bringing their ethical or eco-credentials more to the fore. We're not too far away from these becoming hygiene factors, as people alter their purchasing habits based on how a brand's ethos and value stacks up against their own'.
Olivia Cox, Junior Copywriter at Mention Me observed that, 'At their peak in March, online orders across our fashion clients were up 113% compared to 2019, while referrals were up 112%. This shows that consumers weren't only eagerly shopping with their favourite fashion brands—they were also recommending them to others. The challenge for these retailers now is creating a high-quality, omnichannel customer experience that rivals any in-store offering. Customer participation will be essential in 2022, and tapping into brand advocacy through referral is a powerful way to capitalise on this'.
Will Ashton, the CEO of Nest Performance found from experience, 'The past 2 years has seen high street closures, and a trend in the rise of ecommerce, which appears to have had a permeating change in the way consumers shop. Many established brands have realised they needed to lean into digital marketing as ecommerce boomed, and they saw the opportunity to capitalise on traditional DTC channels for fast growth—such as paid social. In line with this, Nest has seen an increase in the number of traditional fashion brands seeking to fully leverage paid social as an acquisition channel.'
Stuart Barker, General Manager Europe Comestri notes that, '81% of consumers research online before making a purchase – if your products aren't discoverable, you've already lost! High quality, structured data helps consumers find what they're looking for and make the purchase, either online or instore. Ensure your customer journey is seamless between online and offline for an exceptional brand experience'.
Rory O'Connor, Founder and CEO of Scurri suggested, 'One of the most visible shifts we have noticed in recent years is that online stores and ecommerce networks have become increasingly important in the fashion retail market worldwide. This has been due to modern technology, not just in enabling the creation of websites and social media networks for increased advertisement, but in the running of Fulfilment Warehouses which aid the operational running of an ecommerce network.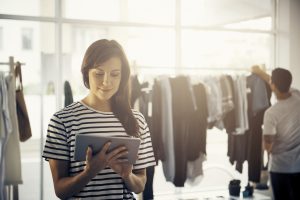 This has been due to modern technology, not just in enabling the creation of websites and social media networks for increased advertisement, but in the running of Fulfilment Warehouses which aid the operational running of an ecommerce network. According to the McKinsey & Company 2021 report "State of Fashion", 30% of fashion executives saw digital expansion to be the greatest opportunity for the fashion industry at present.
Peter Curran, GM Digital Commerce, at Lucidworks said, 'Part of the in-store experience includes the ability to 'search' for specific items by asking store staff for guidance. For example, I'm looking for a performance ski jacket, breathable yet waterproof, with enough space for my phone and passport – and bright so my family can see me. That's a description which the ski department team member can successfully interpret to find a suitable item. This kind of 'long-tail' query is a challenge for most online search platforms. The query is specific (indicating high intent) but if it doesn't close match the item description, products will remain undiscovered. Thankfully there is an answer.  AI powered search, and more specifically, semantic vector search, can learn and interpret more complex requests to close the sale. Plus, retailers and online merchandisers can use insights from online customer queries to continuously improve and refine the online shopping experience'.
Henrik Fabrin, CEO at Certainly, says, 'Fashion retailers need to find ways of competing with the high-street on their own terms. Traditional webshops are unable to provide certain services, like instant in-store advice about finding the right product from sales assistants. A Conversational Commerce setup, however, can begin to bridge this gap. By creating a Digital Twin of your best salesperson, you can accurately size, cross-sell and up-sell, all while collecting zero-party data. Not only will this help online retailers ride out the collapse of third-party data, but it will also allow them to support their customers 24/7 and reduce the risk of returns'.
Hervé Crochet, Ecommerce Director at DPD, suggests that, 'Our ethnological study into New Commerce highlights original shopping behaviours in Europe, including buyers' increased taste for secondhand. Not only does this trend for pre-owned meet specific needs such as budget-friendly shopping or advantageous re-sale value for luxury items, but it also responds to the necessity in our world for sustainability. We've also noticed marketplaces and multinational clothing chains now offer secondhand products along with brand-new fashion. We believe recommerce has a promising future ahead, and ThreadUp's resale report even predicts the value of the resale segment will be double that of fast fashion by 2030."
Andrew Norman, Managing Director of ShipStation International says that, 'The fashion industry was one of the few sectors that witnessed impressive growth during 2021's Black Friday period and throughout the pandemic. This was heavily influenced by brands adopting emerging technology to revolutionise online shopping in the fashion industry. For instance, many brands used augmented reality allowing consumers to preview products, emulating the physical shopping experience they'd typically experience in-store. With social media platforms like TikTok and Snapchat developing improved body tracking filters, digital try-ons are becoming the 'must have' perk for online shoppers. Strengthened returns processes are going to be critical. With brands like ASOS offering free returns, consumers now expect this approach to returns to be the industry standard. Additionally, shoppers expect more cost-effective options, such as a broader range of collection options, with returning clothes becoming a part of the weekly trip to Tesco'.
To conclude, fashion is not in a bad position for the future. There was growth over the two year pandemic period, and there are plenty of opportunities for clothing retailers to expand. If retailers can utilise their knowledge to make the most of the increased volume online, then there's space for development. With topics such as sustainability, marketplaces, and cross-border commerce at the forefront of many fashion retailers minds, those who make the most of these opportunities will witness the benefits. You can sign up to hear our thoughts on these topics, and more about fashion ecommerce, at Fashion Connect on the 9th and 10th of February, at the Hurlingham Club in Fulham, or online for our virtual day.
Published 04/02/22