By Naomi Botting, Int. Field Marketing Manager — UK & Northern Europe, Lengow
The UK's Growth 2000 merchants, a group of up-and-coming, disruptive online merchants just following the UK "Top 500", confront one major challenge: getting noticed. An overview putting up-and-coming retailers in the driving seat to generate more sales and reach a wider audience via marketplaces.
Challenges faced by smaller retailers
Consumer spending online surged both during and after the pandemic, meaning the market is more competitive than ever. It's no secret that retailers must increase their online presence to generate growth, whether via advertising and SEO on their own website or by leveraging marketplaces and marketing channels. 
Standing out from the crowd is a challenge that even major brands and retailers face. However, getting recognised is even more difficult for up-and-coming merchants, such as those in the "Growth 2000" cohort. These are the retailers that sit just beyond the Top500 retailers located in the UK. They must compete with established behemoths, with vast budgets, that are also turning to the internet as their major sales and marketing channel.
The business case for using marketplaces
The buyers of the future are digital natives, meaning the importance of these online marketing and sales channels will only rise. The following figures speak for themselves: 
Marketplaces are used by

57%

of online shoppers in the UK on a regular basis

Marketplaces account for more than half of cross-border revenue in Europe
For many small merchants, using marketplaces to compete with these giant corporations is a realistic option. The likes of Amazon, eBay or Zalando can offer the reach and marketing tools in order to compete. Marketplaces are extremely popular throughout Europe. The evidence: Amazon logs almost a billion monthly visitors, followed by eBay with 366 million, Allegro with 184 million, and Zalando with 127 million. Such widespread popularity leads to high search engine visibility. Furthermore, these trusted platforms reassure buyers and reduce the barrier to purchase for lesser or unknown brands. All this, while providing an excellent platform for limited internal resources to use in order to target new, large markets.
These platforms, however, can also be competitive: differentiating from the crowd is difficult when your rivals, including big brands and retailers, are also present on the platform.
Lengow collaborated with retailX to investigate how the Growth 2000 merchants use marketplaces to increase visibility and attract customers. So just how are Growth 2000 retailers leveraging marketplaces and what sort of success are they having? Here is a peek at some of the statistics and key learnings from the report, which details how the Growth 2000 are performing financially and the traffic they are receiving as a result of their marketplace presence.
Marketplaces of choice for the Growth 2000
SME merchants are, albeit slowly, increasingly turning to marketplaces to expand their reach both cross-border and locally. Over half of the Growth 2000 cohort who sell on marketplaces turn to Amazon (56%), with a third (33%) selling on eBay. Zalando and Farfetch both feature high on the list–and are in the top three in terms of popularity–indicating that there is a fashion and apparel bias among the Growth 2000 firms. Finally, the research demonstrates that the Growth 2000 retailers use a multichannel approach, selling on many online marketplaces. Many Growth 2000 companies are using more than one marketplace to sell online and, while they rely heavily on Amazon and eBay, these marketplaces are far from dominant.
Overall, we can see that certain Growth 2000 brands and merchants use marketplaces more than others. Fashion retailers outnumber all other verticals and are rapidly turning to all of these marketplace platforms to move their inventory. Fashion brands and retailers are the most prominent on marketplaces by a significant margin, ahead of sports and leisure, multi-sector companies, and consumer electronics.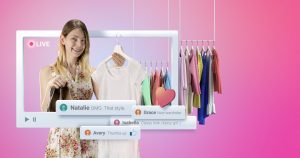 What about social media?
It's simple: you need to be present where your customers are spending the majority of their time in order to reach them. Spending an average of 1 hour, 49 minutes online each day, 77.9% of the population in the United Kingdom uses social media (that means 53 million users). These platforms are becoming increasingly important in brands and retailers' marketing and promotional mix. While the likes of Meta's Facebook and Instagram and TikTok are increasingly making moves to allow sales from within their platforms. Currently, presence on these platforms is intended to drive customers to marketplaces or merchant-owned websites. However, smaller merchants are not using social media–or not using it as well as they could be.
Among those who do utilise social media, Twitter is one of the most popular among the Growth 2000. The platform is non-transactional and mostly utilised for exposure, showing that users who use social media do so as a location for high-funnel engagement and promotion rather than as a prospective sales channel.
According to research from 2021, approximately 10% of UK buyers used TikTok to make an online purchase, with 30% of customers starting their purchasing experience on Instagram, 18% on Facebook, and 7% on Snapchat. These sites are becoming more important in terms of promotional–and eventually transactional–channels for retailers, with many of them being driven by significantly younger populations. 
While marketplaces may help smaller businesses and brands compete on an equal footing with more established brands and retailers, they are also fiercely competitive. Many Growth 2000 retailers avoid marketplaces for these reasons – due to a lack of understanding, fear of the unknown, and technological challenges – but with the correct assistance, adopting them may enhance exposure and lead to sales.
If you look at social media as a soon-to-be marketplace-like platform, smaller online businesses have a tremendous set of tools at their disposal to enter both domestic and international ecommerce in the years ahead.
---
For best practices to help increase the discoverability of up-and-coming merchants and with case studies on those already leading by example with actionable insights, download the entire Growth 2000 Marketplaces Report 2021 from Lengow now. 
Published 31/03/2022