By Russell Loarridge, Director, ReachFive
Over the past 18 months of repeated lockdowns and restrictions, customers shifted online to satisfy their shopping urges, resulting in an exceptional increase in sales. Online now contributes to 36% of retail revenue in comparison to just 16% pre-pandemic1. However, while some of this new buying behaviour is likely to remain, online is no longer an emergency destination and retailers have failed to recognise this.
Consumers are missing the quality of the shopping experience. Buying online is typically a perfunctory process; at times, even discouraging. As shoppers gain confidence to return to the high street, the decline in online retail is certain. The question that remains is just how extreme that decline will be.
With Black Friday and Christmas just around the corner, retailers have one last opportunity to take a serious look at the online experience and provide the level of personalisation customers expect. Russell Loarridge, Director, ReachFive, outlines that it's now or never to capture and preserve this new customer base.
Act Now
Online retailers have had to work harder than ever over the past year and a half to scale up to meet customer demand. They have had to invest in both their logistical warehouse operations, as well as ensuring their websites are more robust and can handle an increase in customer numbers. Fulfillment is now more efficient, with retailers offering a variety of delivery options to an improvement in picking accuracy, for example.
However, the nature of the buying experience remains the same– irritating and sub-par. As shoppers, why are we still forced to search through hundreds of irrelevant products in a hopeless need to find the required item, only to then discover, after hours of scrolling for it to be out of stock? A jumble sale would be more enjoyable – and more productive. Yet retailers continue to wonder why product returns and basket abandonment continues to soar.
With the return of physical shopping, consumers now expect something better. There has been no attempt to truly uncover the customer base, aside from meaningless contact information. A good retail experience has always been based on offering a product that meets a customer's needs. Yet, a majority of online retailers still have no real understanding of the individual preferences of each customer and don't have access to crucial information to tailor their experiences, such as gender, size, preferences and hobbies.
Personal Connection
Online retail isn't working, and the growth of sales fueled by the pandemic is masking this reality. Customers miss the quality of a personal interaction in-store, and retailers are facing surging costs of sale. In addition, small margins are already under pressure from logistics disruption due to a critical lack of HGV drivers and inbound shipping delays. Not to mention the escalating cost of sale with labour, fuel and marketing costs.
Therefore, something has to change, and quickly. But how can retailers create a loyal customer base that is also profitable? How can they create positive brand loyalty and an environment that motivates customers to come and browse – both in-store and online? How can they move the online experience from the equivalent of a jumble sale to one that is slick, organised and relevant?
It's all about creating a personal connection. By asking the shopper for their age range and gender, for instance, it instantly allows the retailer to offer a more suitable selection of products. This can then be honed by requesting them to input their favourite colour or specific preferences in order to direct the customer to the item that meets their wants and needs. To avoid the annoyance of scrolling through endless items to discover the one they want is out of stock at checkout, or not available when the customer wants it by, adding in an 'only show available stock' button will benefit time-pressed customers.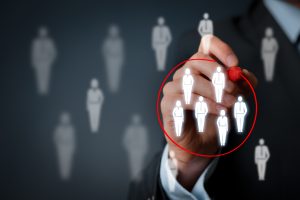 Simple But Effective
Gaining the necessary customer information does not have to be complex or use Artificial Intelligence tools. Retailers instead can simply just ask the key questions to transform the quality of the shopping experience. Consumers aren't ordering numerous items because they want to go to the Post Office or courier collection point, but with differing sizes and inadequate online descriptions, do they have much choice?
Instead, retailers can use this same behaviour as a way to interact and engage. If a customer puts various sizes of the same product in their basket, an alert can suggest they provide their measurements to help the retailer recommend the best size. This information can then be captured and used to enhance the customer experience every time, with a personal identity that becomes more detailed with each interaction.
Encouraging customers to provide their precise measurements is a huge step forward in both the quality of the online experience and, critically, in reducing returns. Some e-retailers are providing innovative virtual measuring services, while those with an online and physical presence can make it an event. Inviting customers to a pop-up shop opening where they can have a free cup of coffee, a chance to preview a new collection and a chance to be measured at the same time, is a great way of building engagement and improving personalisation – and ensures the customer knows what size to pick next time.
Change Of Mindset
Every stage of the online experience could and should include an element of personalisation. Why are retailers not using returns data, for example, to better understand each individual customer? While some businesses capture that information at a generic level to provide insight into problems with product sizing or quality, linking it to each individual customer is also hugely beneficial. Creating a personal connection isn't complex – it just requires the right mindset.
To help customers with their next buying decision, this information could be added to a customer's profile. They can reflect on their purchase history, including sizes, what they kept and what was returned, which will help them choose the correct size first time, improve the experience and minimise the need to buy – and return – multiple sizes.
Retailers can also take advantage of recurring and timely purchases, such as a customer searching for children's football boots at the end of summer, meaning they are likely getting ready for the new school term. Why not make the process more straightforward with an annual alert highlighting the items that are in stock and in the right sizes to get them ready before the term starts?
Conclusion
Consumer behaviour can change overnight, and this was demonstrated during the peak of COVID-19 when e-commerce retailers experienced a surge in online sales due to the closure of the high street. But with physical stores back open, there is now no reason for customers to continue to buy online while the quality of experience remains detached and careless.
With peak seasons rapidly approaching, nurturing a loyal customer base should be a priority to not only take advantage of the rise in shoppers, but to also keep them around for longer. Action is required now: it's do or die, before retailers retrospectively lament the masked reality behind this year's ecommerce success.