By Brad Houldsworth, Head of Product at Remarkable Commerce
When it comes to building a multi-million pound digitally-focused business, having the right eCommerce platform is crucial for success, yet many companies feel the limitations of inadequate systems and struggle to convince their board to invest in a new platform. One of the most common reasons for eCommerce replatforming is simply outgrowing your current platform.
Manual processes and never ending integration issues can easily take up precious time and resources – that can mean  significant maintenance costs on-top of your platform's commission fee. So when do the cost of system maintenance and process limitations become so tremendous that you can't afford to update your current systems?
Your platform should scale with your business. If you're customising it to handle basic functionality, and calling developers for every update, it may no longer be the right platform for you. Read on for five telltale signs that confirm it is now time to move to a more efficient eCommerce technology architecture that will better support your growing business.
1. Your current platform doesn't have the features that you need
As your online business grows, so do your needs and your customer expectations. A higher volume of customers, a larger product catalogue, and a heftier website all require a robust platform that can handle large amounts of data. On top of that, around 70% of your online shoppers use their mobile devices to make purchases. Legacy eCommerce platforms, especially monolithic solutions, were not made for mobile shoppers, let alone the lightning-fast web experience consumers have come to expect.
Outdated platforms are technically cumbersome, slow, and pricey. As you grow, you probably need to improve and expand the digital experience you offer. That's reason enough to re-platform.
There are two groups of functions which need to be considered when assessing whether your platform is strong enough for you – storefront features (customer-facing functionality on your website or your app) and platform admin features (efficient, self-serving tools for your eCommerce teams). Both types of functionality need to be extensive, scalable and capable of full customisation.
2. Manual Processes That Deplete Time and Resources
Ecommerce teams are under immense pressure to deliver results and strong consistent performance, yet they are often hamstrung by repetitive, resource-heavy, manual tasks.  If your current eCommerce platform still relies on manual processes to complete simple tasks, a more integrated system offering can help you run your day-to-day operations smoothly and efficiently – to make room for more higher-end projects.
An ideal integrated system should have automated data feeds and reporting, to ensure your warehouse and your drop ship vendors remain in-check. Synchronisation is key for many retailers who sell on multiple channels.
Unfortunately, some 'off-the-shelf' eCommerce platforms do not have automated functionality for simple processes (like changing product availability based on custom data fields) and require manual adjustment. Custom automation is an important consideration when selecting your next eCommerce platform.
3. Your Agency is Struggling to Develop
Relying on solution partners and system-integration agencies to develop and improve your eCommerce platform has a fundamental problem – none of them have full access to the core platform code. They are simply working within the constraints of the platform and unfortunately, will hit ceilings with what can be achieved.
Your agency will not have full access to the platform APIs and it will not have full access to the platform's production servers – this means as a retailer, you are not in full control. Simply changing agency may solve some short-term communication or process problems, but you will be no better off.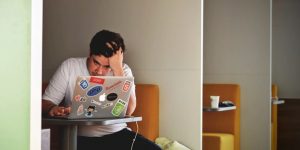 The best solution is to move to a platform which is fully supported, maintained and developed by the same developers who created it, and who have full access to change any line of code in your entire architecture.
4. You're Facing Limitations with Content Design and Customisations
I believe that every retailer should have cost-effective access to a cutting-edge, high-performance commerce platform to enable them to compete on a level playing field with larger rivals. If you are handicapped due to poor technology, you are not realising your full sales potential and conversion rates will be negatively impacted.
Many eCommerce platforms have some form of content management system built-in.  In the past these have been simple image-upload functions which populate templated pages. Today, however, it is common to see a drag-and-drop page builder system and full no-code 'experience design' functionality. Often, a platform will depend on 3rd-party plugins or white-labelled technology to deliver this type of functionality.
5. Important Business Systems are not Speaking to Each Other.
As a retailer, manufacturer or distributor you have invested heavily in systems like your ERP, PIM, CRM and more. It is absolutely crucial that your eCommerce platform can fully integrate with these systems or you'll end up with siloed data and disconnected teams.
Over the last twelve months mobile and app commerce reached a watershed – 2020 was the year when mobile overtook desktop as the dominant channel for digital shopping. But playing in mobile is about more than responsive design. It's about delivering the mobile experiences that drive deeper engagement and improved retention rates – while providing a platform to reach more shoppers with immersive customer experiences. If you have separated storefronts (like a website, an app and an in-store kiosk), it is vital that they are connected into a headless eCommerce platform – this is the lynchpin that ensures product, stock, customer, content and promotion information remain synchronised.
Summary
Broken promises are frustrating and good help is hard to find. But it doesn't have to be that way. Re-platforming is a big project, yes, but it reaps an abundant return if you approach it strategically. If you've had it with your current platform, consider making the move and contact me to get a personalised demo. Remarkable Commerce has supported more than 50 retailers moving away from solutions that no longer supported their growth ambitions.
By Brad Houldsworth, Head of Product at Remarkable Commerce