By Ben Foulkes, Senior Business Development Director at Epsilon
According to the Boston Consulting Group, retail media is a $100 billion opportunity, and by the end of this year in the US, it's expected to be worth $23.92 billion.
With retailers sitting on a wealth of rich, consented, first-party data, harnessing this to build a digital retail media business offers a new revenue stream that can drive growth straight to their bottom line at a time when margins are squeezed.
At the same time, it offers an exciting opportunity for brands. In an evolving advertising landscape where changes, including the demise of third-party cookies, are impacting their ability to target consumers, it gives them a new option. Leveraging retail data to target consumers around what they purchase, preferences and a wealth of transactional and behavioural information while influencing decisions when they are about to buy is gold dust for brands. And for brands lacking a scalable direct-to-consumer offering, including non-endemic brands with offerings not directly linked to retail, it provides a new way to grow their business.
But as is the case for any new channel, when considering working with a digital retail media network, it's essential to do your homework to ensure you're investing your marketing budget wisely. You must be confident it can deliver the target audience you want to reach; its data supports your targeting objectives, it makes it easy to work with them, and it's competitive with the rest of your media spend. Once done, you'll be able to decide if it's worth investing in.
So what should you be looking for? Well, here are five consideration areas when assessing a potential digital retail media partner.
1. Is their first-party data connected to a digital identifier?
Activating first-party data to drive targeting on a retailer's site is only part of the story. True activation calls for a well-rounded view of the consumer by recognising them across multiple touchpoints, devices, and channels.
After all, brands want to talk to consumers where they are most receptive, be that on desktop, tablet or mobile and across display, video in-app, video, and the wealth of other channels.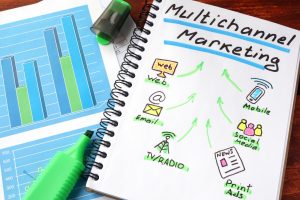 Only then can brands have more opportunities to engage with them, personalise their communications, anticipate intent, and identify the roles each channel plays to attribute conversions accurately. This is only possible if the network's first-party data is underpinned with an accurate, stable digital identifier.
2. Do they have off-site as well as on-site capabilities?
On-site advertising acts as a brand's in-store promotion, helping influence someone when they're in shopping mode and most likely to convert. But it's just one element of the consumer's online journey. Your digital retail media partner must allow you to connect on-site with off-site advertising to influence a purchase. And to maximise relevance, reach and engagement, this must include multiple digital formats.
It's off-site advertising that extends your campaign, allowing brands to reach a broader audience across the web, drive new (and more) site traffic and help deliver conversions when they move on-site.  Success requires both sides to be connected.
3. Do they offer continuous optimisation?
Once a campaign is up and running can they optimise it to ensure success – and continue to do so for the campaign's duration? Can they use the data on real-time purchasing activity to constantly inform and update the targeting, so it only focuses on those best-in-market consumers most likely to buy? In doing so, return on ad spend (ROAS) is continuously improved and campaign effectiveness maximised.
4. And do they optimise for the individual?
While consumers may buy similar products, each person is unique, and their identities as shoppers are vastly different. They have different demographic, purchasing and browsing behaviours, different motivations for buying products and changing daily needs. This means optimising at a general buyer segment level is wasteful, so the digital retail media network must be able to optimise at the individual level. By having rich data points to understand the individual at multiple levels – including transactional, behavioural, demographic and lifestyles – digital retail media networks can give brands a better understanding of consumers. These insights allow brands to speak to these differences by personalising and targeting their advertising to deliver relevant, engaging messages. And consumers want a more personalised approach, with 42% of consumers being annoyed when content isn't personalised.
5. How do they demonstrate performance?
Can they deliver measurement quickly and accurately, so you can understand and optimise performance when the campaign is live and not have to wait until it's finished, when it's impossible to influence it positively? And do the metrics report on what's important to you, not just the network? Yes, delivery metrics around reach and impressions play a role. But critical outcome-based ones such as ROAS at a category, SKU or brand level, or actual SKU-level sales generated, are what's important. These metrics show marketing's value to a business and allow brands to make better marketing decisions.
With Goldman Sachs reporting that 82% of CPG brands surveyed said they're already investing in at least one retail media platform and emarketer anticipating ad spend in this ecommerce channel to grow by 27.8% in 2021, digital retail media offers a huge opportunity for brands to target consumers. But it only works if a brand does its due diligence and finds a suitable digital media retail partner that works for them.
---
Download Epsilon's Brand Marketers Guide to Digital Retail Media Spend to learn more about new digital retail media opportunity
Published 17/12/2021