By Fia Jonsson, Marketing Manager for nShift Return at nShift
Online shopping changed radically in 2020 and 2021, and 2022 is not looking to be any different. With a pandemic forcing people to stay indoors, habits have changed for good. Although people are starting to venture outside, as the world continues to open up, our buying habits have changed. In 2020 alone, more than 2 billion people made a purchase online, with e-retail surpassing a shocking $4.2 trillion worldwide.
Another surprising stat is what came next. In 2020, nShift Return's data shows that more than 30% of all purchases ended up as returns. And from experience, we know that returns are seen as a dreaded, time-consuming, and expensive process that can have a negative impact on day-to-day operations for e-tailers.
To add to the frustration, consumers are becoming more aware of their options and often put focus on the returns process, before browsing products. Variables such as free returns are becoming important and can be the deciding factor as to whether a customer makes a purchase from you, or one of your competitors. In fact, half of all online shoppers say they are ready to move onto another retailer, if they're charged for returns.
Here are three returns management trends for 2022 to meet consumers' new and higher expectations with a successful outcome.
Trend 1: The Power of Free Returns – do not tempt customers to look elsewhere
Offering free returns to customers should and will be a trend every year, not just in 2022. Perhaps it's not a trend at all, but just more of a necessity.
Even before the pandemic, 86% of respondents in a survey carried out by Klarna say that having the possibility to return purchased items for free, makes them loyal and more likely to keep coming back to an online retailer.
But bear in mind that this may vary a great deal depending on the brand, industry, or product. Someone buying a jacket may be more affected by a return fee than someone buying a bathtub.
And be aware…offering free returns may be considered a cost that could be avoided. However, data shows online stores offering free returns see customers spend up to 357% more than otherwise. Yes…three hundred and fifty-seven percent increase!
As with everything in retail, this number may vary between retailers, industries and products. Therefore, to overcome this problem, you can apply a couple of different steps to your returns policy:
Offer free returns to your members (logged into account), and charge for returns for new visitors
Charge for returns but make exchanges free of charge
Only charge if the return's monetary value is less than a figure of your choosing
Plus, you can always set different rules for different markets, segments or product groups
When it comes to returns, one size does not fit all. Yet, there is great power in free returns.
Trend 2: Contactless Returns – make the customer feel safe and comfortable
As we move into 2022, self-service, home delivery and pickups are becoming services that consumers expect as choices. Locker blocks in public places are expected to become a trend, which function as big parcel pick-up and drop-off hubs. You may see them in public places already, but you can still expect an additional increase.
This method lets shoppers receive and return packages without any contact with another person, which makes them feel safer. There is no waiting in line, and the lockers are open 24-hours (unless located inside a store, of course). As mentioned previously, even though the world is opening up – our habits have changed forever. Contactless returns are also great for consumers with busy lifestyles, as well as the delivery persons.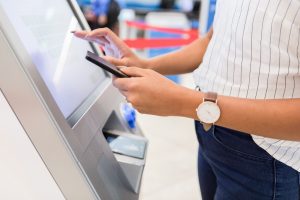 These secure, self-service kiosks may come at a higher cost to you as a retailer, but the impact it has on the customer experience is priceless.
As a result, you create a more loyal customer base.
Trend 3: Digital Returns Process – it's time we give the customers what they want
Nothing causes a bigger headache than a handwritten return slip nobody can decipher.
What would you say if I told you there is a way to remove this entirely for your returns process? In fact, today it is possible to just scan a barcode, open the parcel and control the item, click the green 'approve' button and move on to the next package. It does not have to take more than 10 seconds to register a return and have all the data collected and ready to analyze.
One of the biggest trends we have identified during the past few years is that retailers are becoming more aware of how digitized processes and data can support and improve day-to-day operations. Digitized processes include everything from online return registration, internal and external communications, to automated notifications, refunds and updated inventory count.
Many retailers have only focused on the return as lost income, rather than a source of new income and have missed the opportunity to reconvert returns to new purchases.
There is no denying it, returns do cause headaches for e-retailers but by digitizing a large part of the process you can finally give the consumers what they want. As consumers are making more purchases online, and will continue to do so, they crave simpler processes. It must be just as easy to return an item, as it is to purchase one.
Maybe you are ready to offer your customers product exchanges or partial refunds. With a digitized process in place, you can automate many tasks that normally would require man-hours in customer service or at the warehouse. Even our own data shows more than 30% of all returns are reconverted to new purchases at this stage. This is new revenue for your business that would have been lost.
The time your teams spend on returns can finally be reduced in 2022 while your customers are happier than ever and enjoy automated updates throughout the returns process.
Summary
Nobody really likes returns. But, as more people move towards e-commerce, retailers are becoming increasingly aware that the buyer journey doesn't end when the purchase is complete. It is only getting started. The interest in returns management is growing – and I am very excited about that as there are endless opportunities to reconvert lost purchases into new revenue streams and create a more loyal customer base through a few simple steps. Therefore, the goal for 2022 is really to give the customers what they want. Simplicity, digitization, control and contactless returns — all this builds loyalty, so find the balance that fits your business best.
Feel free to drop me a message if you are interested in discussing returns management, or anything else related to reverse e-commerce.
You can find 6 additional returns management trends for 2022 in our nShift blog. nShift is the global leader in Cloud Delivery Management Solutions. Our platform enables the delivery and return of close to 1 billion shipments across 190 countries.