By Emily Black, Content Executive and Analyst at IMRG
Summer is usually a time for jetting off abroad, flowers opening, and the sun in the sky—for retailers, this means holiday spending, buying seasonal clothes, and lots of sun cream sales. However, this summer it might take longer to thaw the ice of winter, as shoppers are under the ever-growing pressure of inflation and the cost of living crisis, meaning their money is precious. With customers less keen to part with their money, how is this reflected in the market, and what does this mean for the season ahead?
Expectations were high for April's market results, as they signalled the beginning of post-pandemic tracking, where the YoY growth measure was no longer impacted by the anomalous pandemic highs and lows. However, the market seems to have fallen flat, due to an overall growth rate of -12%–in which case a result of around 0% growth can be considered 'very good' growth for any individual retailer against the market average. In the graph below, we can see that growth did increase from March 2022, (when it was low due to being measured against lockdown growth) however, it was not enough to signify a stable market for the summer ahead. The online retail boom of the pandemic appears to be over, as there's talk of a recession in the UK.
With last month's market results showing poor pandemic recovery, there are few categories experiencing positive growth at the moment. As of the week closing 8th May, clothing (womenswear, menswear, footwear, accessories and lingerie) was one of the few categories to have bounced back after negative growth in 2021 against the pandemic boom of 2020. Now, clothing is experiencing a comeback after the lockdowns, whilst the rest of the categories are suffering. Interestingly, makeup, garden, and garden furnishings were also seeing uplift, which is unusual within the context of our previous monthly results. Those categories which are doing poorly are health and beauty (-32% YoY as of April) and garden (-23% YoY as of April) which can expect tough summers, where discounting might be applied heavily.
The good news? Traffic itself is increasing from a negative result, working its way back up towards 0% growth, currently at -0.03% in April. People are still browsing online (and spending more, as ABV is at an all-time high of £145—although this is likely just to cover costs of acquisition for many retailers) they may just be more difficult to persuade to part with their money.
After looking at the data, we can see it's going to be a tough summer for retailers, as it'll take more than just a heatwave to persuade shoppers to spend. Customers are tightening their purse strings as the result of global economic unrest. We spoke to some industry experts to find out how retailers can enact successful strategies to see the best returns over the summer.
Nick Williams, Head of Strategic Parcels Partnerships at PayPoint said, "Convenience stores showed great resilience throughout the pandemic and a level of adaptability that hasn't been necessary before in their sector. Despite operating conditions still presenting challenges, I've no doubt that they will continue to provide a service that local communities can fully rely on."
"The warm weather, the Queen's Jubilee and the upcoming European Women's Football Championship are just some of the key calendar highlights that online retailers should be tapping into, while noting that the convenience and accessibility of Collect+ can help boost sales and increase footfall for PayPoint retailers."
Estelle Di Lucia, Global Partnership Development Director at Digital River suggested, "Summertime is always slow in retail, both on-line and in brick-and-mortar stores. This year the pressure of inflation could cause shoppers to pull back at a time when the urge to buy is already waning. Historically, July is the slowest summer month. The kids are off school. After enduring two years of Covid travel restrictions everyone is saving for sun holidays, to leave it all behind. Why would consumers be thinking of shopping when they can just switch off and relax, unfortunately at the cost of the retailer.
Retailers need to work hard to change the perception of the consumer to turn it around and have a successful summer and not just accept a poor month of revenue, just because it's always been like this!
Retailers need to focus on the typical reasons why things slow down, including sun holidays, travel, return to school, trends and transition to next season's new product lines. Merchants can counteract this slow down, turn it on its head and drive the consumer to think now is the right time to get ahead of the new trends so they aren't left behind and out of date."
Russell Hughes, Consulting Manager, Consulting Services at Sovos, observed, "For businesses looking to increase their summertime sales, it's important they look beyond just the UK market and make use of EU schemes available to open up these EU markets. The Import One Stop Shop was introduced to allow simplified customs declarations for non-EU businesses. This means for businesses where most orders are below €150, they charge VAT at the point of sale and report this all under one VAT return. The goods are then imported more freely using their IOSS number instead of having to prepare full customs declarations and paying import VAT to clear the goods. This allows a more seamless approach to sales and returns and creates a much better experience for customers."
Bertram Welink, EMEA Retail Marketing Lead at Microsoft Advertising, suggested, "As the cost of living continues to rise, families are looking for ways to reduce expenses or spread the cost of high-ticket items. Not least of which are school uniforms and equipment – an expense generally concentrated around the summer period.
Our data indicates school shoes, bags, backpacks and clothes will be the most popular items parents search for, with 43% being brand product searches as parents look for the best value. Microsoft Shopping Ads allow you to grow visibility on top of your Search campaigns and for relevant queries up to 17% of clicks comes from Shopping. We would advise advertisers to start their back-to-school campaigns early to catch the most interest from customers looking to spread the cost of these essential items."
Monica Eaton-Cardone, Founder of Chargebacks 911, claimed, "This summer will be interesting for ecommerce as the industry looks to shake off the challenges of the last two years and define what the future of the consumer shopping experience will look like. This will be supported by innovative technology, combined with evolving consumer shopping habits that will drive brands' decision making. However, there is a growing concern into what security experts call 'muling' – intentionally (or unintentionally) sharing identifying information, in order to facilitate ecommerce fraud. The losses can be catastrophic for businesses and solving this problem will involve thinking outside of the box when it comes to security, going beyond usernames and passwords and using third-party tools that can identify when information is being shared."
Barley Laing, the UK Managing Director at Melissa, argues, "To drive sales in the summer retailers should look to go 'back to basics' with their customer data. Doing so will make sure the entire experience from click to door is optimised, and made as painless as possible for both the customer and the retailer.
Having clean and verified customer contact data is best practice, particularly when customer data degrades at around two per cent each month or 25 per cent over the course of the year. A good place to start to ensure the collection of clean data and improve the user experience is with an address lookup or autocomplete tool. These ensure the correct and properly formatted address appears as the prospective customer types in their address.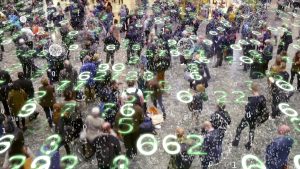 This not only speeds up the checkout process and improves the user's online experience, but ensures products and communications are quickly and accurately delivered to further improve the customer experience. And with the cost of deliveries increasing quickly because of fuel inflation, it's even more important addresses are accurate to avoid costly return to sender and re-delivery."
CEO of Metageni, Gabriel Hughes, said that, "With warmer weather and the holiday season approaching, retailers must anticipate and get head of what customers want. Not every customer has the same outlook. Many people are facing a squeeze and are cutting back, while others have accumulated savings during the pandemic and are happy to spend a little more while in holiday mode. Which customers are you targeting? In the short run, customer segmentation should inform how to plan offers and promotions. In the longer term, marketers can do a better job of adapting to different customer needs by investing in customer analytics and personalisation powered by predictive AI. The ultimate reward for a more personalised approach is to increase trust, retention and Customer Lifetime Value. Ecommerce retailers are well advised to stay focused on these longer term goals in the face of immediate pressures to meet challenging targets."
Sanjay Mehta, Head of Industry at Lucidworks said, "For retailers selling seasonal items, one of the critical challenges is connecting consumers with the right products at the right time while sufficiently moving seasonal inventory.  Managing this becomes unscalable considering how seasonal factors vary by region and seasonal preferences vary by consumer.  To succeed, retailers can employ AI-powered machine learning to detect which product characteristics are converting by season and tailor the individual experience accordingly.  This uses online and offline consumer signals (eg view/browse/brand & style preferences), along with availability data to match consumers with ideal products or smart alternatives (avoiding the dreaded 'zero results') in case of inventory challenges."
Jennifer Griffin Smith, Chief Marketing Officer at Brightcove, said, "As we approach the summer, we are seeing more retailers and ecommerce brands embrace live streaming and interactivity. Livestreaming enhances the shopping experience and is growing in popularity. A live interactive commerce experience blends the benefits of in-person shopping with the convenience of shopping online from your phone or computer. You can expect to see more brands embrace live commerce to increase touchpoints as consumers will continue to purchase online. This advancement in the 'at home' experiences will continue to offer a wider market for all retailers drawing shoppers in and keeping them engaged throughout their shopping experience."
Chris Brennan, VP Client Development Epsilon, argues, "The fine weather in early Q2 brought a welcome boost for retailers. And with holiday-starved Brits taking advantage of a restriction-less summer, it's those with offers linked to travel and leisure who will benefit from their spending. But with inflation and cost of living rises dragging down spending, retailers must double down on their data to navigate these latest challenges. So, monitor and react to changing customer buying behaviours, focus on those channels and promotional strategies delivering growth and target existing profitable customers with tailored offers to encourage them to buy again rather than falling back purely on blanket sales."
Published 26/05/2022