By Nick Jones, Managing Director International, Lucidworks
Consumer electronics companies happily rode the wave of increased demand in 2020 when employees hunkered down to work from home. However, in recent months, these same companies are challenged by supply chain volatility. Shipping delays and product unavailability put serious pressure on every single sale—and the experience of every single website visitor still had to be flawless.
In a recent survey of UK and US consumer electronics shoppers, more than half of respondents said that they found "out of stock" notices frequently or at every visit. The same survey found that 62% of shoppers will go elsewhere if their preferred consumer electronics retailer doesn't have what they want. With little control over an unpredictable supply chain, how can electronics retailers focus their strategy to deliver customer satisfaction and much needed business revenue?
The core to a great digital experience often starts with search and browse, the place where people act with the most intent. Optimising search results, recommendations, and chatbot performance can save shoppers time and might keep them booking directly on your site instead of heading to competitors or other marketplaces like Amazon. Consumer electronics shoppers are especially tricky to manage because they are unlikely to budge on product preference, and are less likely to stick around if that preference is not immediately available. Here's how to get those customers to click 'Add to Basket'.
How do customers experience your site?
We know the website experience can be improved, but where do you start? There's the landing pages, search bar, filter options, product detail pages, reviews, and more. Let your customers help you decide;
You can capture where customers navigate on the site—do they start with a search and click on recommendations? Or do they browse the homepage until they click on a drop-down product category? Then, see which customers 'add to basket' and checkout.
Listen to your persistent customers
The customers you can learn the most from are the persistent users. If shoppers use the search bar and then don't click on any of the results, or even worse, leave your site, those are signs that your search is failing you.
For example, if I search "mobile phone charger" on the website of one major electronics marketplace, I get results for power banks, car chargers, and MagSafe chargers. Great!
When I carry out the same search on a leading electronics provider's site, I get one result for "Scosche BaseLynx EndCap Charger". Not so great.
A persistent customer will search again, and again until they find what they need. But it can be argued that customer electronics providers shouldn't rely on those persistent shoppers. If you're tracking customer journeys, it's easy to identify where the challenges are. Is it this type of search experience? Is it customers clicking into filter options and then going back to change the filters once they've seen the results? Are customers never clicking on recommendations?
This information can help prioritise your strategy.
Better recommendations to combat out of stocks
In a recent survey, 87% of shoppers said there is at least one item they would never buy a substitute for. The price point, amount of pre-shopping research, and brand loyalty make it difficult for consumer electronics retailers who can't control the supply chain. Complementary products and relevant content recommendations are another key piece of the strategy. In another survey, the majority of shoppers (61%) like to do research every time or often via reviews on the brand's website where they'll be purchasing from.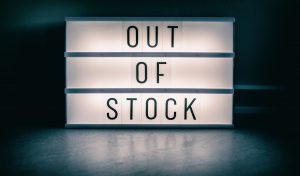 Hence, you may wish to ensure that shoppers can easily discover relevant reviews, FAQs and 'how-to content' to keep them engaged even when the supply chain is slow.
Notify Customers When Their Favorite Products Are Back
If a customer is not interested in the alternative product recommendations, not all hope is lost. The majority of shoppers are browsing for consumer electronics only four times a year, and shoppers are spending a lot of time researching the ideal product.
In other words, they know what they want and are unlikely to waver from their preference. In fact, nearly a third of consumers who took the survey said they are willing to wait.

The most common reason a customer won't budge on an electronics item usually comes down to it not matching their brand preference, taste or is outside of their price range. 90% of shoppers want to be notified when a consumer electronics item they like is back in stock. And nearly a third of shoppers say that they rarely buy a substitute if they came with a specific electronics item in mind. Headphones, gaming systems and mobiles, as well as Apple and Sony brands are all high on the 'not willing to substitute' list for UK consumers.
So proactive alerts via text, email, or app notification are a great way to drive shoppers back to your site.
Make the most of your current stock
Yes, consumer electronics shoppers tend to be quite attached to the purchase they are intent on making and yes, an out-of-stock result is likely to send them elsewhere. That said, there is still hope for retailers. Only 20% of electronics shoppers said they are being given any recommendations when an item they want is unavailable. More than two-thirds say sometimes they see recommendations, but not always. Though the majority of customers will leave, 20% say they will in fact stick around and be open to recommendations.
The survey also found that low stock isn't the only reason shoppers are leaving – many are actually encountering "dead end" search results – sadly this can sometimes be due to shoppers using different keywords to find items and not seeing the item – even if it is actually in stock.
For retailers losing high intent buyers, this is a costly scenario – but technology solutions to maximise the product discovery journey are at hand; solutions like AI-driven semantic search. This technology learns from customer behaviour to get a sense of how each customer searches, and tailors their results to be more accurate and personalised. This helps customers find what they are looking for and allows retailers to get the most out of what they do have in stock, even if supply chain woes are challenging them.
Looking ahead for consumer electronics shopping
Chip shortages, supply chain issues, and inflexible customer tastes are unlikely to change for a while. Retailers can prepare themselves for the future of consumer electronics shopping by doing everything they can to streamline and personalise their ecommerce experiences. With so few chances to give gadget lovers what they want, each point along the buying journey becomes all the more important. Customers will keep coming back to the retailers that provide meaningful experiences and make every effort to match their needs.
Published 21/09/2022
---
Data from Consumer Electronics Ecommerce Strategy: Make Every Moment Count in 2022