By: Dino Manoli
Created in the United States in 2000, Google AdWords is Google's advertising system that helps merchants achieve quasi-immediate results in terms of their return on investment (ROI). This article explains the 12 steps to maximising your sales through Google AdWords.
How does AdWords work?
Users type in search requests that yield two kinds of results: SEO results – the ones you achieve solely thanks to relevant, structured, quality content – and SEA results, which are the results merchants pay to see favourably ranked.
Bearing in mind Google's huge reach – an 86.75% share of the UK search engine market and similar results globally – AdWords is the most powerful advertising company in the world, and an indispensable part of the strategy of any online retail site wishing to achieve serious results.
According to Emmanuel Begerem, head of Google UK's partner network, "Google AdWords gives online retailers the opportunity to access this growing, captive audience to generate formidable increases in their online turnover, whilst retaining a firm control on their investments."
Read on to discover our 12 best practices designed to help you do just that.
1. Start by defining your objectives
Clearly identify the product categories and the offers which you want to highlight: these are the ones you should invest in. The trick is to think strategically and select the areas which are most likely to yield a positive ROI. For example, are you trying to:
•launch a new product,
•liquidate unsold items,
•or maximise the sale of high-margin products?
Try posting all or a select few items from your catalogue on Google Shopping in order to identify your most successful products. You will probably be surprised by the results! A product category that is unpopular, due to a SEO mishap, might do wonders thanks to SEA.
2.  Select the best keywords for the most effective campaigns
Although you are paying for improved ranking, you still need to articulate your commercial offer in a way which allows it to be picked up on. This entails careful keyword selection coupled with relevant page content. You need to master an essential skill: the clever selection of killer keywords for positioning purposes.
But how?
Make a list of keywords that you associate with your product offer. Think like a user; find out what keywords your competition is using;
Choose precise keywords to reach a specific crowd;
Select broad keywords to reach a wider audience;
Group similar keywords in ad groups;
Choose an appropriate number of keywords, generally 10 to 20 keywords per ad group. You may increase their number progressively, as you optimise your campaigns;
3. Match the structure of your AdWords account with the structure of your site
Prospects must be able to access your products quickly and seamlessly, if you want to avoid losing them to the competition. Ensure your destination pages are consistent with ad content and keywords.
Remember the following formula: 1 Request = 1 Ad = 1 Destination page (url)
4. Come up with effective ads
The ad is the first contact between you and future users. It should be specific, relevant and enticing (new product, exclusive offer, unbeatable price, etc.). Here are the 5 golden rules for creating an effective ad:
I. Include keywords in the title of your ad. Make the most of the 30 characters available since "Expanded Text Ads", the last version of AdWords, was created;
II. Insert a call-to-action: "enjoy", "discover", "save", etc. Ads with verbs attract a lot more clicks;
III. Capitalise important words;
IV. Play with punctuation. Exclamation marks add life to a text;
V. Use ad extensions to provide additional information regarding your company and your services. Highlight your reassurance elements; include contact information if you offer phone assistance.
5. Post your ads at the right time and at the right place
With Google AdWords you use information regarding users' habits, profiles and intentions to determine your keywords, the centrepiece of your communication strategy.
Extend this principle to location: set ads to display in specific geographic locations and at specific times. Let's say you specialise in the delivery of organic fruit and vegetables, and most of your orders come through on Friday evenings. Want to target Norwich locals on a Friday night? With AdWords, it's possible. Broadcast your ads to the areas you cover to reach those who are most likely to be interested in what you have to offer.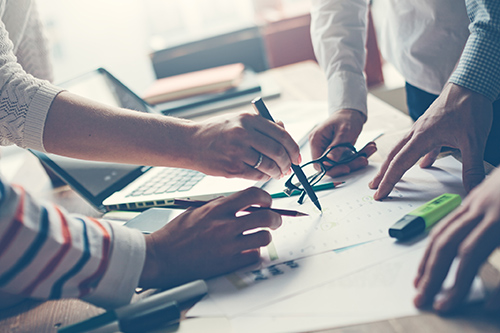 Although you can configure location targeting with just a few clicks, the pay-offs are huge. Once you have designed an effective campaign, head to 'Parameters' in order to include/exclude geographical areas.
Google AdWords asks you to type in your target location names or postcodes and also provides you with an estimated audience size for each selected area. You may select a country, an area within a country, a town or a radius around a location.
You should also think of adopting seasonal budgets and strategies. This is particularly the case for e-merchants who work in sectors such as fashion, health & beauty or floral arrangements.
6. Calculate your return on investment (ROI)
With Google AdWords you can calculate the return on each pound invested in a campaign. A positive ROI gives you leeway to plan your budget in a completely novel way. The question is no longer how much you can spend, but how much you want to spend! By studying the results of your campaigns you will figure out where your margins are maximised and which optimisations to carry out for improved results. Click rate, conversion rate, average basket, cost per click, and quality score will all affect your ROI.
7.  Test your ads and let the figures speak for themselves
Come up with three different ads all positioned on the exact same keywords. Broadcast them at a given time and identify which ones get the most clicks and generate the most sales. Keep only the best ads, and your click rate and quality score will increase, whilst your cost-per-click will go down.
8. Optimise your site
AdWords campaigns help you tweak your website for optimal results.
The key to success is observing customer behaviour. If you know how to interpret Google AdWords and Google Analytics data, you will know what customers are looking for and will be able to deliver accordingly. The data is there to help you react quickly: change your photos, try a new product page catchline, highlight reassuring elements. Test everything and only keep what works.
Customers interact with websites via several devices; activate the mobile version of your site or you will miss out.
9. Select the best location for optimal profits
Google AdWords has four paid advertising spots that show up at the top of users' search results. Adjust your bidding to ensure you secure the position that delivers the best cost-per-click performance.
10. Use Google Shopping to maximise your turnover
Double your Google visibility by combining your traditional Search campaigns (text ads) with Product Ads and Google Shopping campaigns.
Google Shopping is an ideal tool for growing your online business. Managed out of AdWords, it allows you to perform very precise optimisations, such as excluding products or adjusting bids on performing categories.
To start using it, go to the Google Merchant Centre and connect your product feed (images, prices, descriptions) to your Google AdWords campaigns. Broadcast your entire catalogue (images, prices, descriptions) on the search engine. The end result is visually compelling: the right product, the right photo, the right price all contribute towards increasing your turnover.
11. Use remarketing to consolidate your presence and generate customer loyalty
You will no doubt have noticed while browsing that you come across advertising banners detailing offers you had viewed on other sites. This is known as remarketing, a technique which Google has been honing for the last few years. Thanks to Google Dynamic Ads – connected to your Google Shopping feed – you can automatically broadcast personalised ads to recent guests.
Say your prospect added the item "Blue umbrella" to his basket but failed to complete the purchase? When he visits a partner site, "Blue umbrella" will be displayed automatically, together with complementary or similar recommended items.
12. Use banners to reach more users
Google AdWords aims to increase online sales by promoting your links. Google Display, on the other hand, helps you increase your visibility by posting banners on third-party sites. Boasting millions of partner websites, news feeds and websites (Gmail, YouTube…), Google Display reaches 90% of all internet users worldwide, a potential for growth which is hard to ignore.
By: Dino Manoli – UK Country Manager at Actinic
Download the ebook 12 Best Practices To Increase Your Sales With Google AdWords